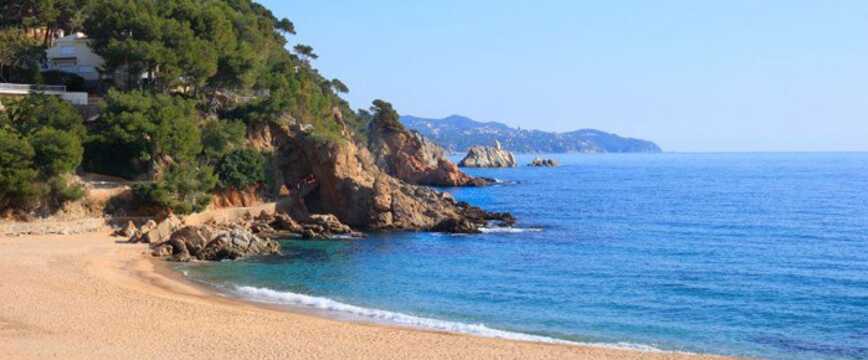 Read more about Santa Susanna
Santa Susanna is a relaxed and laid-back resort on the far south coast of the Costa Brava. With a trio of beautiful beaches boasting golden sands, the resort is perfect for those looking for a week or two of sun, sea and sand. Set back from the seafront, the old town retains much of its natural charm, with narrow cobbled streets and ancient monuments. Combine this with all the modern facilities, and you have the recipe for a perfect holiday in Spain.
There are plenty of opportunities to explore your new surroundings with the wooded Massif Montnegre National Park being one of the resorts most popular attractions. The local parish church has some beautiful murals while you'll find the best panoramic views at the La Mare de Deu de Gracia chapel.
Enjoy some fine cuisine at one of the many seafront restaurants or take part in a variety of watersports including sailing, windsurfing and sailing. The stunning city of Barcelona is also just a short train journey away so this resort is in the perfect location to explore all Costa Brava has to offer...
View destination on a map
Santa Susanna Weather
There's one thing you can be sure of; you don't get cold on Santa Susanna holidays. The Mediterranean climate means long hot summers, with average temperatures reaching 30° Celsius, frequently giving 12 hours of sunshine a day. The hottest months of July and August are often tempered by coastal winds. If you would like to escape the summer crowds with a holiday to Santa Susanna, the best time to visit would be in late September or late spring when the weather is good.
Landscape
Santa Susanna has a strong horticultural tradition, and the town is surrounded by fields. The hills of the Massif Montnegre natural park reach down to the sea, creating some charming rocky coves. But no Santa Susanna holiday would be complete without a visit to the beach, and Santa Susanna's is a 2km clean and family-friendly stretch of sand. The promenade is well-served for bars and restaurants. Water sports abound, and you can even catch a water taxi to Lloret de Mar or Tossa de Mar.
Further up the coast, you can explore the Costa Brava's wild coastline, with unspoilt fishing villages and sheltered coves. You'll find tranquil bays in natural scenery, untouched by tourism.
Things To Do on Santa Susanna Holidays
Your holidays to Santa Susanna wouldn't be complete without a visit to the castle of Can Rates with its 16th Century watchtower, and the nearby Capilla de Santa Susanna, a pre-Roman chapel. The local parish church has some beautiful murals, and you can enjoy wonderful panoramic views from the La Mare de Deu de Gracia chapel. Inland, the fortified Benedictine Monastery of Montserrat is well worth a visit.
Family holidays to Santa Susanna should have at least one day out at Marineworld and Water World. It would also be great fun to visit the bird park in Vilassar de Mar, with hundreds of species of birds, flowers and palms on view.
Culture
The biggest fiesta takes place in August in honour of the town's patron saint, Santa Susanna, with round-the-clock open-air merrymaking. Catch the famous Sardana dance for a traditional Costa Brava holiday highlight. The Sunday closes to May 15 sees the feast of San Isidre.
Local fruit and veg is sold in the weekly municipal market held each Tuesday morning. In the summer, shop for souvenirs at the daily craft market.
Nightlife
Santa Susanna may not be the Costa Brava's wildest nightspot, but you should find enough bars and restaurants staying open late, and the resort has a few clubs. If you really want that riotous all-nighter, Lloret is only a short cab ride up the coast.
There are fun family nights out to be had at nearby Castell Medieval del Comte de Valltordera, where medieval banquets are followed by displays of jousting, duels and flamenco.
Book a Santa Susanna Holiday now!
Thoroughly peaceful, yet with plenty to do, and perfect for families, Santa Susanna holidays are unrivaled. Its climate and setting make it what it is, along with a truly relaxed pace of life, offering a different side to the Costa Brava.
On the Beach have many great deals on accommodation and flights, allowing you to create your own customised Santa Susanna holidays with ease. Book your dream Santa Susanna holiday today...