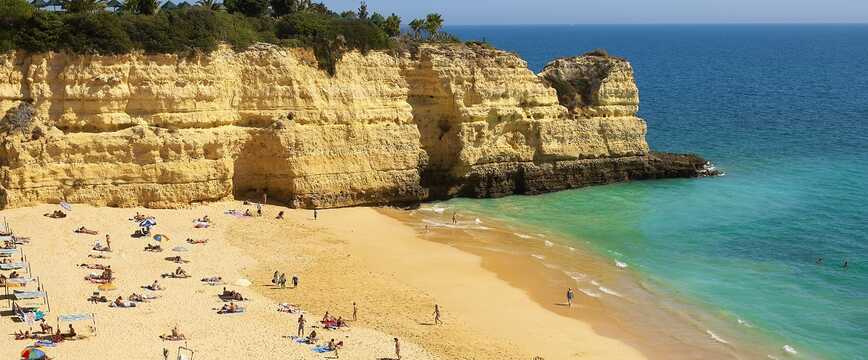 Read more about Praia Da Rocha
A popular beach resort located in the beautiful Algarve, Praia da Rocha is the ultimate spot for a beach break. Amazing for families who love the Portuguese sunshine, but also a wonderfully lively resort for those who enjoy exciting nights out – you can have the best of both worlds when staying in this sun-soaked coastal town.
Beaches
The beach that has it all, Praia da Rocha is a spacious stretch of sandy shore where you can easily find your perfect spot to sunbathe. With sun loungers and parasols ready for hire and watersports offered on the shore, you can enjoy the perfect mix of relaxation and fun on this popular beach. Just a short hop away, Praia dos Tres Castelos is a quieter and smaller beach, but features restaurants and cafes on the front, making it the place to go for those looking to spend the day by the sea.
Food & Drink
Discover the delicious flavours of Portuguese cuisine in Praia da Rocha, where you can explore the fantastic variety of restaurants, bars and cafes that line the streets. From piri piri chicken to fresh seafood, to the yummy cured meats like chourico, you'll not be disappointed with the delightful local delicacies. Indulge in dishes made from the freshest produce and sample local wines and beers – it doesn't get much better than dining out in Portugal. If you have a sweet tooth, make sure to try a freshly baked pastel de nata, they're amazing.
Culture
Praia da Rocha is known for being one of the most popular beach resorts in the Algarve. In the summer seasons, this seaside destination is bustling with holidaymakers seeking Portuguese sun, sea, sand and fun! Explore the local bars and restaurants to get the true feeling of Praia da Rocha and its welcoming atmosphere.
Nightlife
Although Praia da Rocha is known for being a beachy destination, it also has a great nightlife scene. Find your home away from home at the Irish bar, where you'll find authentic interiors, fantastic drinks and a brilliant, welcoming atmosphere. For more relaxing drinks head to the Red Lion Pub. If you prefer a lively atmosphere then there's Boogie Bar, Moonlight Bar and Bar Diagonal to name a few, that all boast a buzzing ambience.
Important Information
Flight Time: 3hrs Time Difference: 0hrsCurrency: EuroOfficial Language: Portuguese
Vaccinations
Please check with your healthcare provider for all up to date vaccination advice before booking your holiday.
Visa
British Passport holders don't need a visa to visit Portugal. Holders of other passports are advised to check with their national embassy for any visa requirements.
View destination on a map
Praia Da Rocha Weather
Located in the Algarve, Praia da Rocha boasts hot summers with highs of 32°C and 33°C in July and August and 12 hours of sunshine. Sea temperatures are highest from July to September, averaging between 20°C and 21°C. Winters are also mild in Praia da Rocha with high temperatures ranging between 16°C and 18°C from December to February, but rainfall does increase in the winter months.
Landscape
The beach in Praia da Rocha is known for being one of the most beautiful in the Algarve. The mile-long stretch of sand and clear blue waters keeps tourists flocking throughout the year. Praia da Rocha's landscape is made even more stunning by its beautiful coastline, a stretch of jagged sandstone cliffs offering spectacular views of the area.
Things To Do on Praia Da Rocha Holidays
Boat tours
Set sail on the crystal waters of the Atlantic and discover the wonderful Algarve coast on a boat trip from Portimao. Dependant on which boat trip you choose, you can see the wonderful Benagil Caves, which are only accessible by water, a natural beauty that you'll never forget. Boat trips are also available to take you down the Arade River, where you can sightsee, visit historical attractions and relax under the beaming sunshine.
Go diving
Dive into the Atlantic Ocean and explore beneath the surface on an exciting diving trip. With the Subnauta Diving Centre, you can head out from Portimao (next to Praia da Rocha) and discover two amazing diving sites where you'll find unique marine life and maybe a shipwreck too! If you're a keen diver and want to make the most of your time in Praia da Rocha, make sure you don't miss out on this experience!
Bar hopping
If you're on holiday with friends who love to go out and party at night, bar hopping around Praia da Rocha will tick all of your boxes. From the pubs where you'll meet your new favourite people to the bars where you can drink and dance – you're sure to have an unforgettable night out. If you love to end the night somewhere you can dance until the early hours, head to one of the popular nightclubs that are open until sunrise.
Culture
The Algarve is very proud of its culture and this is shown throughout the year by the way it celebrates its many festivals. February is carnival time in the region and the streets are filled with colourful processions. During March the Easter processions begin culminating in the Easter celebrations in April with the celebration of the bloodless 'Carnation' Revolution.
Nightlife
There's a great selection of bars and restaurants to enjoy on your Praia da Rocha holidays, many of them on the beach front so you enjoy fabulous views while you dine. There are also several good nightclubs and, being an established resort, many of the hotels in the area offer evening entertainment and live shows so you're never short of something to do.
Take an evening and head into nearby Alvor to relax with fine food and local wines or venture further west along the coast to bustling Lagos or tranquil Praia da Luz.
Book a Praia Da Rocha Holiday now!
Praia da Rocha is the most established of the Algarve resorts and it's not hard to see why - the friendly atmosphere is enough to keep visitors returning. Add to that the beautiful beach and gorgeous landscape and it's obvious to see why holidays to Praia da Rocha are so popular!
On the Beach makes booking your holiday even easier with plenty of great deals so check it out today, your holidays in the sun are only a few clicks away!