Are beaches your holiday highlight? You'll find them in Portugal by the bucket load. If food is the way to your heart, or your golf game is your top priority, there's a resort with your name on it here too. Infuse your beach break with some clubbing, shopping, cycling, or any combination of the above, and there's no wonder why Portugal attracts thousands of British tourists each year. This country's appeal is as diverse as its coastline, which ranges from heavenly golden sands to hidden coves and caves.
Beaches
With over 1000km of shoreline, it's only natural that Portugal is home to some of the world's most beautiful beaches. Head to the resort towns of the south for stretches of sand dotted with sun loungers, beach bars and watersports centres – Praia da Oura in Albufeira and Meia Praia in Lagos are two of our favourites. Go north for the perfect surf spots, and if you like to combine beach days with urban exploration, Portugal's coastal capital of Lisbon is the perfect blend of city break and beachy escape.
Culture
Many of Portugal's coastal towns started life as fishing villages, and have since grown into the bustling beach havens we know today. These humble beginnings can still be seen in everything from the country's food, where flavourful fish remains a common staple, to its events, where the cultural line-up includes the Lisbon Ocean Festival and The Week of the Sea Festival in the Azores. Both of these festivities celebrate the country's maritime heritage with fun parties and spectacular boat races, and there are plenty more to discover for yourself.
Food & Drink
Cheeky piri piri chicken might be Portugal's most famous culinary export, but there's a whole world of flavour to explore here. Start your day right with a traditional breakfast of fresh bread, butter, ham and a bica - a small espresso. Make sure you also sample some delicious local goat's cheese or fresh seafood at lunch or dinner. Sweet tooth? Pick up a pastel de nata, Portugal's signature pastry.
Nightlife
What's your perfect night out? Whether you're a dusk-til-dawner or a dinner and drinks fan, there's something for everyone when the sun goes down in Portugal. Albufeira is a clubbing hotspot, with a famous strip full of lively bars and clubs. You can also head into Old Town Albufeira for a more relaxed evening ambience. Alternatively, Lisbon nights are more of a cosmopolitan affair – keep an eye out for hidden gem wine bars like Vestigius, a cool venue housed in a former warehouse.
Important Information
Flight Time: 2.5hrs Time Difference: 0hrs Currency: Euro Official Language: Portuguese
---
Portugal hotels for families
Tots, teens or in-betweens, your kids will love these family-friendly picks.
All inclusive hotels in Portugal
Eat, drink and be merry at these All Inclusive hotels.
Luxury Portugal hotels
These properties are perfect for when only the best will do.
Budget Portugal hotels
These hotels get you to the same beaches with fewer frills and less cost.
Check out more great Portugal Holidays.
---
*deposits from £30pp apply when a holiday is purchased 45 days before departure.
---
Portugal Resorts
Soak up the sun, appreciate the culture and experience copious amounts of delicious cuisine in Portugal's capital city. Spend your days wandering thro…
Read more on Lisbon Travel Guide
Sunshine and seafood are the Algarve's main claims to fame. And, with over 150km of coastline, it's no surprise that this region of Portugal offers mo…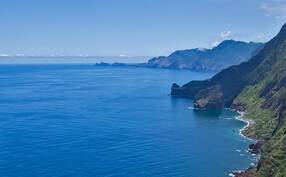 A peaceful archipelago filled with beautiful nature, Madeira is the place to go if you're looking for a relaxing yet exciting holiday with lovely weat…
More reasons to book with us…
Book with confidence
Our flight-inclusive package holidays are financially protected with ATOL
Over 1.5 million
happy customers book with us every year
Pay in instalments
& spread the holiday cost up to four weeks before you fly
24/7 in-resort support
from our UK call centre