Booking a Maldives holiday
Find out more about the best things to do in the Maldives and let us build a bespoke package that's perfectly suited to you!
Looking for the beach holiday of a lifetime? You'll find it in The Maldives. With fine white sand, glass-like water and palm trees for days, this island nation is the ideal backdrop to a heavenly honeymoon or a take-your-breath-away getaway. If you love to explore, make sure you visit the capital of Malé to sample local food and experience authentic Maldivian life. If you prefer to flop 'n' drop in your own little piece of paradise, then opt for a beach resort on one of the 26 heavenly atolls. Fancy a bit of everything? Look out for island-hopping excursions that will take you around coral reefs and hideaway bays. Located in the Indian Ocean - close to the Equator - Maldives holidays can be romantic escapes with your partner, tropical adventures with your family and everything in between.
Beaches
Look up the definition of wanderlust, and you'll find a picture of a beach in The Maldives. Okay, that might not be strictly true... Although, if we asked you to describe your perfect holiday setting, the chances are it would match a Maldivian beach pretty closely. This destination is made for barefoot beach days and relaxing in the sunshine, as the leafy palm trees sway in the gentle sea breeze. Is romance the name of your holiday game? Opt for your own waterfront retreat on the Cocoa Island beaches. Stick to private sands such as Bikini Beach near Rasreef and Rasdhoo Islands if you like to see and be seen - you can strut your stuff in a bikini here; elsewhere you may need to cover up to respect local traditions. Need something more pocket-friendly? Check out the beaches on Veligandu in the North Ari Atoll for good value and good times.
Food & Drink
Maldivian cuisine is often based around fresh, locally-caught seafood – the country is surrounded by the warms water of the Indian Ocean, after all. Due to the tropical climate, coconuts are another common ingredient here. Look out for mas huni on the menu – this popular breakfast dish combines both of these into a tasty meal of smoked, shredded fish with grated onions and coconut. Try it for yourself at one of the harbourside restaurants in Raaveribe Maizaan in Malé. After something sweet? Sample some saagu bondibai, a popular vegetarian dessert made from palm stems, coated in coconut milk, condensed milk and rose essence. Alcohol is only sold in hotel bars and tourist resorts, so try a refreshing sai tea to quench your thirst if you're out and about.
Culture
Culture here is influenced by Sri Lanka, South India, Africa and more, which blend together with a uniquely Maldivian twist. Being an island nation, it makes sense that the people of The Maldives have a strong connection to the sea – many of the locals are fishermen and rely on the Indian Ocean to make a living. This is a Muslim country, so mosques also play an important role in local life. These places of worship are stunning sites to visit; some of the mosques are made from coral and date all the way back to the 1700s. Looking for an authentic souvenir? Take some time to browse for braided mats and handmade jewellery from the street stalls and smaller shops in Malé.
Nightlife
Fancy a chic cocktail by the pool or a night of dancing until dawn? Or is coolly clinking glasses as the sun sets more your style? With places to stay to cater to every taste, evenings in The Maldives can be a wild party or a low-key affair. As this is a Muslim country, alcohol is generally only available in hotel and resort bars – something to keep in mind if you plan to hit the town in Malé. For alternative entertainment after dark, try snorkelling by moonlight with a guide, getting tickets for a show or even crab racing on Kuredu Island (yes, you read that right).
---
Looking to go
All Inclusive
? Take a look at our favourite
All Inclusive Maldives
holidays here!
---
Important Information
Flight Time: 13 hoursTime Difference: GMT +4hrCurrency: Maldivian rufiyaaOfficial Language: Dhivehi
Vaccinations
Please check with your healthcare provider for all up to date vaccination advice before booking your holiday.
Visa
On arrival in The Maldives, British nationals can get a tourist visa for up to 30 days if they have a valid onward or return ticket and enough funds to cover their stay.
Ramadan
Please be aware that the Islamic holy month of Ramadan will take place between 12/04/2021 and 11/05/2021. During this time, many cafes and restaurants will close during the day, restrictions on alcohol sales may be in place and hotel dining for non-Muslim guests may take place in private rooms. Playing music, dancing and eating in public areas may also be restricted during this time.
View destination on a map
Maldives Weather
The Maldives has a tropical climate, meaning it has a drier season and a rainy season. The best time to visit is in the middle of the dry season, between December and March. The average temperature at this time of year is 29°C, meaning you get that lovely warmth without it being overwhelmingly hot. Between May and October is the rainy season, with average temperatures of 27°C. September is the wettest month – you can still visit The Maldives at this time, you might just need to pack your brolly alongside your sun cream.
Things To Do on Maldives Holidays
Go on a snorkelling safariWith warm, clear water and plenty of coral reefs to explore, the Indian Ocean is the perfect place to snorkel. Stay in the shallows by the shore and see what you can spot – you never know, you might just find Nemo. For something really special, book a guided excursion through your hotel or an official tourist information point - they'll take you to some worthwhile snorkel spots. From colourful fish to manta rays, there really is no better way to explore what's under the water. Keep an eye out for sea turtles too, they've been known to be just as curious as you are. Visit a man-made beachDon't let the name of Artificial Beach put you off. This stretch of shore started to disappear into the sea so - in order to rescue Malé's most popular bay – the beach was reclaimed using breakwaters to shelter the sand. Technically man-made, but offering all the natural beauty that The Maldives is famous for, this is the only place in the island capital to paddle, dip or swim safely. A social place for locals as well as holidaymakers, you may even stumble upon one of the many concerts and carnivals that are held here throughout the dry season.View the islands from the airThe Maldives' main travel hub is Velana International Airport, which is located in Malé. If you're staying on an island resort outside of the capital city, then by far the best way to island-hop is by seaplane. Not only do you arrive to your hotel in style, the views over the Indian Ocean as you fly through the sky are unparalleled. See how many shades of blue you can spot – the clear turquoise of the shallows, the inviting hue of the reef-studded water and the royal blue of the deeper water. Getting an aerial view of the islands really shows how tranquil and secluded your stay in The Maldives will be.Just relaxWhether you're travelling to The Maldives to celebrate a special occasion, or simply to experience a paradise island or two for yourself, the chances are that you chose this destination for its peacefulness. Busy working weeks and hectic home schedules can make it hard to spend quality time with your loved ones. So why not kick off your shoes and go barefoot on the beach? Get back to nature as you stretch out contentedly on a sun lounger and reconnect with your partner or family in the most laid back place on Earth. There's nothing like doing nothing to make you feel well-rested and serene – and the beautiful scenery doesn't hurt either.
Book a Maldives Holiday now!
To ensure that you have access to the best deals available on holidays in the Maldives, we have developed an online booking system that lets you easily create the best cheap Maldives holidays complete with accommodation and flights. Book with On The Beach today for the best deals online!
Maldives Resorts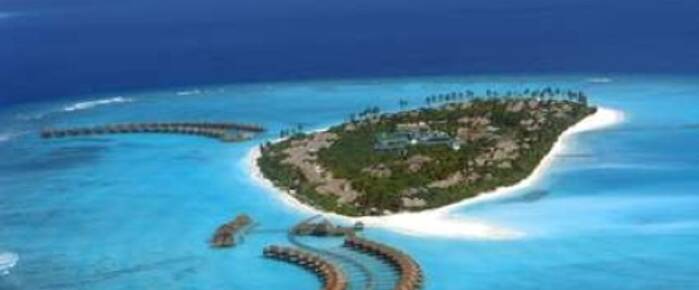 Male is the capital of the Maldives, an island city that is densely settled yet clean, friendly, and full of charm. There's plenty to explore on this…