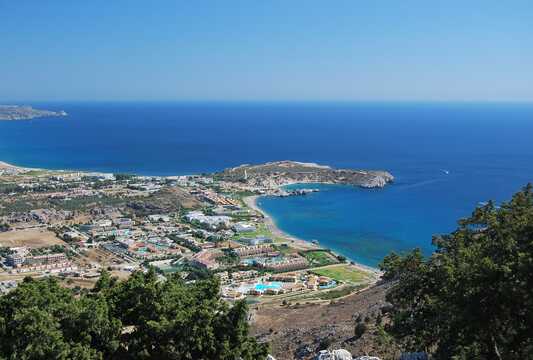 If plenty of rest and relaxation is what you want, then Kolymbia is just the resort for you. Located 25 kilometres from Rhodes Town on the middle of the northeast coast, the resort offers a low-key, chilled out holiday in Rhodes - it's less busy than the neighbouring resort of Faliraki - but certainly a lot of fun too. Sitting picturesquely between mountains and sea, the resort has plenty of shopping, nightlife, watersports, and even excursions to nearby islands and villages. Whatever your age, you're sure to find something in Kolymbia that you'll enjoy greatly!
Famous for its 2 kilometre Eucalyptus-lined main street, Kolymbia is a serene and well-kept location with a clean and safe beach, which is especially ideal for those with children. If you're looking for all of these things, your Greek Island holiday will not disappoint you at all.
View destination on a map
Kolymbia Weather
What better way to enjoy your holiday in Kolymbia than to relax in the sun before cooling off in the sea? In the summer months, Kolymbia enjoys temperatures of around 30° Celsius, with around 13 to 14 hours of sunlight a day, so you'll get that tan in no time! Evening temperatures average a cool and comfortable 21° Celsius, with virtually no chance of rain, which makes eating out a pleasure.
Temperatures reach a more comfortable 24° Celsius around May, but you'll still get plenty of daylight. Visiting at this time, or even a month like March or December, will be better for those who don't enjoy hot temperatures. The chances of rain are higher during these months, but you'll still get good daytime sun, which is ideal for those who don't enjoy heat but still want a relaxing sunny break.
Landscape
Relatively developed yet not overtly so, the architectural landscape of Kolymbia is one that is complimentary to the town's magnificent natural beauty. One of its best features is the horseshoe shaped bay, the golden sands of which are brushed by a twinkling blue sea. The beach makes an ideal setting for sunset, as the commanding mountain of Tsambika sits grandly behind the town. Nestled peacefully at the feet of it, those with walking problems or young children will be pleased to know the roads of Kolymbia are well maintained and picturesque too, with the Eucalyptus Drive fitting seamlessly into the town's landscape.
A great deal of care has been taken not to disturb the natural scenery, so you'll find most of the buildings are ornate yet not out of place, with many being a picture-perfect example of old Greek architecture. For an amazing photo opportunity, head to the top Tsambika Mountain where you'll be able to gaze out over the entire town!
Things To Do on Kolymbia Holidays
Kolymbia's Eucalyptus Drive is a must see, but aside from this the town is well known for its array of watersports, with jet skiing being one of the most popular activities. If you're after something less energetic though, why not take in a round of golf in the town of Afandou, only 8 kilometres away? The town has a course that is well constructed, clean, and has 18 holes, so it's perfect if you feel like perfecting that handicap!
A visit to the Seven Springs is highly recommended for families or anyone who likes good exercise. Seven Springs is a forest area that features a beautiful lake constructed by the Italian's during their occupation in 1912. With lots of greenery, it is also an ideal place to picnic and relax with family and friends. If you'd like to explore the island further, the resorts of Lindos and Rhodes Town are only a half hour bus ride away, and offer historical sights that will have you talking all the way back to Kolymbia!
Culture
Kolymbia is and has mainly always been an agricultural town, but it does also have an interesting history, having been occupied by the Italians in 1912. It is also in close proximity to several interesting religious buildings, including a monastery on Mount Tsambika and the Monastery of Paramythia just 6 kilometres out of town. If you are an extreme history fanatic though, you'd be recommended to use the excellent bus services the town provides to head to the nearby villages of Rhodes Town and Lindos. There, you'll discover ancient ruins that are thousands of years old.
Kolymbia is a quiet town, but it's one that observes cultural traditions and rituals with great gusto and enthusiasm. The folk here observe the celebration of Easter and Christmas, but try visiting a neighbouring village like Rhodes Town, Lindos, or even Afandou too, as celebrations in the calendar vary from village to village.
Afandou for example celebrates a festival in honour of Saint George in Aprill, where all the people of the people take to the streets to contribute to the atmosphere, while in August it hosts a series of plays as part of its cultural month. Do feel free to join in as participation is encouraged! If you're planning to go out to Kolymbia in August, the festival of the Virgin Mary takes place on the 15th, so look out for local celebrations as they often make a fantastic evening out.
Nightlife
Like most of the hotels in Kolymbia, those in Kolymbia will provide you with a quality evening of entertainment, but you will love trying out the local restaurants, bars and tavernas. Most offer a good atmosphere, with traditional cuisine and drinks reasonably priced, which will be good news for large parties. Don't expect anywhere to be too rowdy though because Kolymbia is low key nearly all year round, which may suit elderly couples more than young people.
For those who want to party the night away though, you can reach the popular resort of Faliraki by taxi in no time, where there is a greater choice of bars and nightclubs. If you think you'll enjoy the peacefulness of Kolymbia more though, a night in a sea-view restaurant as the sun sets will definitely leave you smiling!
Book a Kolymbia Holiday now!
For relaxation, discovery and cultural immersion, Kolympia is a fantastic choice for your holiday in Rhodes. With a beautiful landscape, a quiet yet welcoming atmosphere and delicious authentic local food, it's no wonder thousands of tourists from all over Europe flock to the resort every year.
If you want to really get away from it all, Kolymbia is the resort for you. Use our simple live booking system to customise your holiday with a choice of bargain hotels and flights; your holiday is just a few minutes away!