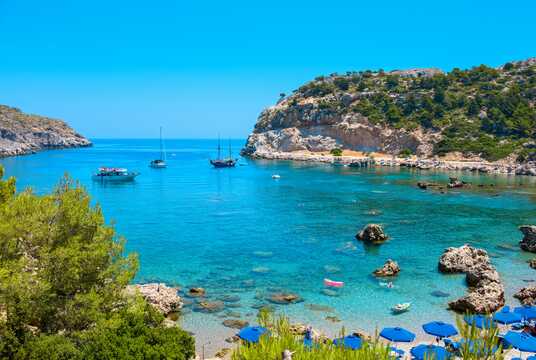 If you don't want to travel the beaten track on your Greece holidays, a break in Kiotari is definitely the right choice for you. Located on the southeast coast of Rhodes, Kiotari is an up and coming village that is quickly developing a reputation as a fantastic holiday resort, though you'll find far less people here than in a more well known resort like Faliraki.
Located around 60 kilometres from Rhodes Town, Kiotari is a relaxed and laid back town that promises you plenty of sunshine, opportunities for shopping and watersports, though for those after a plain old lazy break it's also ideal! With a gorgeous sandy beach and scenery to die for, Kiotari will please just about anyone who's looking for plenty of fun in sun on their Rhodes holiday.
View destination on a map
Kiotari Weather
Located on the east coast, Kiotari is a fantastic option for anyone looking for a hot sunshine break. Temperatures in the peak months of July and August are hot, with an average of 29° Celsius and around 12 hours of sunshine per day. Chances of rain during this time are virtually none. For those who enjoy the respite of a sea breeze in the heat, perhaps visiting Rhodes Town on the northwest coast may be a better option, as Kiotari doesn't receive windy weather very often. It does however enjoy the benefits of a calm blue sea, which will be great if you're holidaying with kids, and evening temperatures of around 23 to 24° Celsius, so you'll have a cooler evening after a sunny day.
If cooler weather all round is what you're after though, a trip to Kiotari in March, April or May will be perfect, with temperatures in the day of around 23° Celsius. Likewise, late September through October offers a pleasant temperature.
Landscape
When you visit Kiotari the wonders of an attractive unspoilt landscape will really have you feeling like you're in paradise. With only a sprinkling of hotels and bars, the town is not very urbanised, which makes the unblemished natural beauty stand out all the more.
Imposing mountains stand behind the town with attractive green patches situated between the town and the golden sands of the beach. The beach offers panoramic views of gorgeous blue waters - a view that's even more romantic and stunning at sunset. The town has a cosmopolitan atmosphere, with well-maintained houses and roads, though it isn't at all dense. With exotic palm trees and flowers dotted around, along with colourful buildings, the landscape of Kiotari is something that truly cannot be faulted for beauty.
Things To Do on Kiotari Holidays
One of Kiotari's main attractions is its fabulous EU approved blue flag beach, which runs the entire length of the town. With shingles at one end and sand at the other, the beach is a clean and safe place with plenty of watersports on offer including para gliding, windsurfing, and even banana boats!
For fans of Greek mythology the town of Lindos is only a short bus ride away, with ancient sights that will get those cameras out! If you wish to go sightseeing in Kiotari though, you should make sure to visit the nearby town of Asklipio which is home to the famous Byzantine Fortress. Kiotari also caters for fans of shopping, with three large supermarkets and a range of small stores that will ensure you come home with plenty of good gifts.
Culture
Despite being a purposely-developed town, Kiotari still possesses a good few historical sites. Look out for a small bamboo hut on the beach that is said to represent a time in Kiotari's history when pirates would invade, and villagers would scare them off by placing scarecrows on the beach.
If you feel like exploring outside of Kiotari though, an excursion to Rhodes Town or Lindos is the best choice, as they are home to some of the most famous and well-known ancient sights that Rhodes has to offer.
As a small and quiet town untouched by large-scale urbanisation, the culture of Kiotari is one that is taken very seriously. If you're enjoying a spring visit, make sure to find out about celebrations for the anniversary of the revolution against Rhodes' Turkish invaders, which can be celebrated in March but is moveable. On the 15th of August the town will celebrate the Virgin Mary, while on the 5th and 6th of August, the Festival of Sotiros is held.
The neighbouring town of Asklipios is only a short distance away too and celebrations the Transfiguration of the Saviour in August, so make sure to find out from locals about any celebrations that are taking place!
Nightlife
Due its ambient nature, nightlife in Kiotari is often centred around the hotel. Most hotels in Kiotari provide a great evening of amusement along with a range of facilities, but if you find you want to head out, there are a few bars and restaurants in the centre of town and seafront providing a good range of food and drink. As such, this would provide a better night out for families and elderly people; for younger people meanwhile the attractions of Faliraki and Lindos are but a short bus or taxi ride away, and as larger places will have a greater amount of bars and clubs to party the night away!
If peace and relaxation are more your scene though, nightlife in Kiotari will definitely be for you. How about an evening in a sea-view bar or restaurant to wind down after a day on the beach topping up your tan?
Book a Kiotari Holiday now!
If your looking for a Rhodes holiday that is relaxed, quiet and with plenty of beautiful scenery, you won't find a better location that Kiotari. Located only a short distance from major towns and with shopping and watersports facilities, the resort is perfect for anyone who just wants a break in the sun.
Book now with On The Beach and with our convenient live booking system you'll be able to combine bargain flights and hotels to create your very own customied holiday in no time!