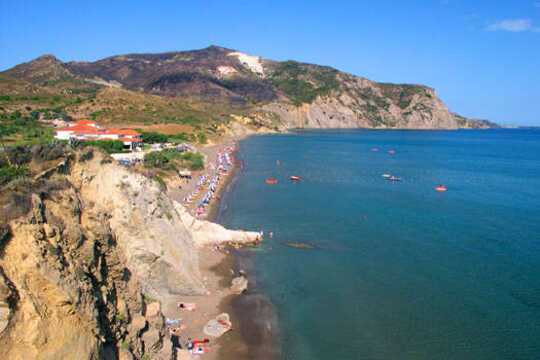 Located on the Greek island of Zante, the beautiful resort of Kalamaki is just waiting to be explored. Holidays to Kalamaki are all centred around relaxation with golden sands, breathtaking scenery and amazing culture all on offer.
The small Kalamaki beach is the perfect place to enjoy an afternoon with the family, and with soft sands and shallow waters it's easy to take a dip into the sea to cool off. You can also take a pedalo out on the water and if you're lucky you may spot one or two Caretta Caretta turtles. If you don't manage to spot any turtles, you can hop on the Turtle Island cruise in the search for these wonderful creatures.
One place we highly recommend on your holiday to Kalamaki is Smugglers' Cove. Often referred to as 'Shipwreck beach', you'll find yourself surrounded by white cliffs and amazing rock formations and in the heart of the beach, the famous shipwreck that dates back to 1982.
For those looking to explore their surroundings a little further, a trip into Zakynthos Town promises a mix of local markets, traditional streets and a host of culture and history for you to embrace.
Kalamaki holidays are also great for evening entertainment. You'll find a mix of local bars and restaurants where you can enjoy a few drinks and live entertainment throughout the evening. For those looking to dance until the sun comes up, nearby Laganas is a little livelier than Kalamaki and takes around 10 minutes in a taxi.
View destination on a map
Kalamaki Weather
Kalamaki has a Mediterranean climate meaning it is hot and sunny all summer long and pleasantly mild in the winter. The best time to come on your Greek Island holiday is April to September when the temperatures are at their zenith, all the restaurants and bars are open and the water is warmest. If you visit Zante in the peak summer months, don't forget your sun cream - you'll need it!
Winters in Zante are cooler with the chance of an odd shower. It is very rarely anything less than cool so while you may want to bring a sweater for the evenings you'll still get to enjoy the sun during the day.
Landscape
Kalamaki has one of the most beautiful beaches on the island. The white sands and crystal blue waters make it a favourite with tourists and locals alike. There's plenty of sun loungers, deck chairs and umbrellas so you're sure to find a great sunbathing spot.
This is quintessential Greek countryside with long beaches, steep cliffs and green hillsides all round. There's no shortage of memorable vantage points for the perfect backdrop in your holiday photos!
Things To Do on Kalamaki Holidays
There's plenty to do in Kalamaki including crazy golf and a reptile house which the kids will love. If you fancy taking in some scenery take a walk into the nearby resort of Laganas. The main attraction though is the stunning beach, which is really a continuation of Lagan Beach. This long stretch of soft sand is fringed on either side by magnificent cliffs.
If you visit Kalamaki at the right time you might just be able to spot the Caretta turtles who come back to the same beaches to lay their eggs.
Culture
Zakynthos was flattened by an earthquake in 1953 and only one building in Kalamaki survived. However many of the buildings, especially the churches were rebuilt and are extremely popular with tourists and locals alike.
The nearby towns of Laganas, Argassi and Vassilikos are well worth visiting for their lively calendar of festivals and celebrations.
Nightlife
Kalamaki has some great bars, the Safari bar being one of the most popular, but the best thing about it is its restaurants. Authentic tavernas offer fresh fish and delicious Greek cuisine all day and into the night. Michaelos, to the north of the resort is one of the best tavernas anywhere in Zante.
As far as clubbing and late nights out dancing goes, Kalamaki is not for you. If it is late night partying that you want, then head to nearby Laganas.
Book a Kalamaki Holiday now!
Kalamaki offers everything you need for a great family holiday so why not get the best of both worlds and treat yourself and the kids at the same time. On the Beach offers a great selection of holiday deals with some of the cheapest Greek Island holidays around. Book now and get next years family holiday sorted in double quick time using our live booking system!