---
Big things from such a small package, Israel offers extraordinary Mediterranean coastal spots and organic cuisine for you to explore and enjoy.
---
Destination Highlights
100km of Mediterranean coastline
A wealth of historical sites
A wide selection of organic cuisine
A cultural hotspot for all to enjoy
Jump to...
Beaches | Hotels | Nightlife | Food | Events | Things to do | Weather | Important information | Reviews |
---
What are the best beaches in Israel?
For such a small country, Israel holidays boast over 130 different beach spots to explore. Combine this with glorious temperatures all year round and you can see why Israel is the perfect choice for your next getaway. With so many beaches on offer, let's give you some of our best suggestions.
Dolphin Beach - For only a small fee, you and the family can swim alongside the dolphins of Eilat. The views will be something to remember too.
Caesarea Aqueduct Beach - Named after its celebrated landmark, it stands as both historical destination and summer getaway.
Ein Bokek Beach - Plenty of shade spots available to watch the waves of the Dead Sea wash back and forth.
Coral Beach - With snorkel shops around every corner, take a dive below the Red Sea and experience Eilat's world-famous nature reserve.
Beit Yannai - For those who love to fish, make the most of this uniquely rural seaside spot.
Jisr Al-Zarqa Beach - Take a trip down the Tanninim stream as it flows toward this beautiful Mediterranean coastline.
What are the top hotels in Israel?
Israel is home to a great selection of unique hotels located in a range of interesting buildings, from converted factories to old hospitals! So here are some of the best beachside hotspots to kick back and relax in.
What's the food like in Israel?
With street vendors around every corner, you'll have plenty of opportunities to try Israel's signature recipes.
Falafel - This national dish is a deep-fried ball or patty fritter made from grounded chickpeas.
Hummus - Whether it's a dip or the whole meal, hummus serves as one of Israel's most popular cultural dishes.
Shawarma - A close cousin to the kebab, the meat is stacked on a slow turning vertical rotisserie, before it's sliced thinly and served in a wrap.
Burekas - For those with a soft spot for savoury, burekas are baked pastries filled with mushrooms, potatoes, and cheese.
Shakshuka - A simple breakfast choice of poached eggs made with a rich blend of tomatoes, garlic, and chilli.
So, with your tastebuds tingling, let's get into the best spots to find these fantastic choices.
Michael Local Bistro - Serving vegetarian and meat dishes, this farm-to-table restaurant is a great spot.
Alena - Offers diners a familiar menu with a sharp Mediterranean twist.
Robert Vine - A restaurant serving its diners delicious Italian fare.
Whale - Situated along the coast, Whale excels at its seafood-focused menu.
Where's the best nightlife in Israel?
While Israel may be popular for its historical significance, it's also become one of the fastest growing nightlife destinations in the world. For an unforgettable night out, check out these spots.
Rothschild 12 - A pillar of Israel's nightlife scene, this café-cum-nightclub offers guests a chilled environment, with plenty of space outside to watch the night sky.
October - Maintaining its artistic origins, this modified gallery serves a delicious range of wines and various ales. For a romantic evening, we highly recommend.
Kuli Alma - For those in the mood for something a little wilder, this spot is known for its buzzing atmosphere, keeping the party going till the wee hours of the morning.
Beit Maariv - Once the publishing house for one of Israel's most popular newspapers, this converted hangout now specialises in playing house and techno from around the world.
What events can I go to in Israel?
You'll find a celebrated feeling of inclusivity in Israel, as well as an open embrace of the LGBTQ+ community. Every event is another opportunity for people to celebrate with loved ones. So, for those thinking of taking a trip, here's some events for you to remember.
Purim (March) - Known as the feast of lots, this festival sees streets packed with costumed parties and parades, with food baskets handed out to passers-by.
Independence Day (May) - Commemorating Israel's declaration of independence, you'll be welcomed to a myriad of artistic performances as well as impressive fireworks shows.
Lag b'Omer (May) - Fan of bonfire night? This event marks the end of Omer, which sees locals sing and dance around large bonfires throughout the night.
Tel Aviv Pride (June) - A weeklong event that sees gay pride taken internationally as people from across the globe fill the streets with flares of LGBTQ+ fanfare.
Shavuot (June) - A favourite among farmers, this harvest celebration is marked by a wide selection of savoury snacks such as cheesecakes and blintzes.
Red Sea Jazz Festival (August) - This four-day event sees the best of Israel's jazz scene collaborate with artists from all over the world.
Olive Festival (November) - Held in the fertile region of Galilee, Olive Festival marks the beginning of the olive harvest, with traditional dancing and special menus offered at local restaurants.
Things to do in Israel
Welcome to the jungle!
With 250 acres of open parkland and over 1,600 species of animals to see, the Ramat Gan Safari Park is a must for family holidays to Israel.
Soak in the history
Experience Israeli culture at its finest with the Eretz Israel Museum, which offers guests different exhibitions, ranging from history, archaeology and the arts.
Take a trip beneath the ocean
Eilat's Underwater Observatory Marine Park has dozens of aquariums to explore, each filled with an exciting variety of marine life.
Browse the bazaars
Shop through the maze-like alleyways of Jerusalem's old city market. Here you'll find all manner of things from Hookahs to handmade silk scarves.
Take the scenic route
If the hustle and bustle of city life is a tad too much, why not take a trip to the sandstone mountains of Timna Park? The perfect destination for the hiker in you.
---
---
What's the weather like in Israel?
For those wanting to get away for guaranteed sun, then look no further as 2022 holidays to Israel offer fantastic beachside temperatures all year round.
| | | | |
| --- | --- | --- | --- |
| Month | Average temp. | Sea temp. | Hours of sunshine per day |
| Jan | 14 °c | 18 °c | 6 h |
| Feb | 13 °c | 18 °c | 7 h |
| Mar | 16 °c | 19 °c | 8 h |
| Apr | 19 °c | 18 °c | 9 h |
| May | 21 °c | 21 °c | 9 h |
| Jun | 24 °c | 24 °c | 12 h |
| Jul | 26 °c | 26 °c | 12 h |
| Aug | 27 °c | 28 °c | 11 h |
| Sep | 25 °c | 27 °c | 10 h |
| Oct | 23 °c | 26 °c | 9 h |
| Nov | 19 °c | 23 °c | 8 h |
| Dec | 16 °c | 20 °c | 6 h |
Important Information about travelling to Israel
How long does it take to fly to Israel?
Flights to Israel from the UK take about 5 hours.
What's the time difference between the UK and Israel?
Israel is 2 hours ahead of the UK.
What currency do they use in Israel?
The local currency is the Israeli Shekel.
What language do they speak in Israel?
The official language spoken in Israel is Hebrew.
Do I need any vaccinations to visit Israel?
Please check with your healthcare provider for all up to date vaccination advice before booking your holiday.
Do I need to pay tax on my holiday to Israel?
You do not currently need to pay tourist tax in Israel.
Do I need a visa to travel to Israel?
British passport holders don't need a visa to visit Israel. Holders of other passports are advised to check with their national embassy for any visa requirements.
Will Covid-19 affect my holiday to Israel?
We are currently closely following the Covid-19 situation and how it affects travel. You can find out the most up to date information about travel to Israel on the FCO website.
---
Customer reviews
At On the Beach, we've sent many satisfied customers to Israel for a bit of sunshine. But don't just take our word for it, read some of their 5-star reviews below.
Jen:
I love this company have booked many many holidays with OTB and they are great! Customer service is excellent and Lewis S you we're great sorting out changes for us at weekend we really appreciated your expertise and ease of process to change details of our holiday - thank you for helping us - I will continue to book our family holidays with you as I have done for all of the previous holidays
Ms Amanda Burroughs:
Always my first choice for booking holidays. Seamless from beginning to end every time. Great locations, accommodations and prices.
David:
We have used on the beach many with no problems at all. Would highly recommend
View destination on a map
Israel Weather
With an average temperature of 20°C, Israel's a great year-round destination - although sun worshippers may prefer to visit from May to October, when it's usually a toasty 24°C. Levels of rainfall are also the lowest during this time, with no showers expected during June, July and August. Plus, water babies are well catered-for, as the sea temperature is a refreshing 23°C on average.
Things To Do on Israel Holidays
AkkoAlso known as 'Acre', this UNESCO-listed locale is steeped in thousands of years of history. Settled since pre-Biblical times, Akko's Old City is a treasure trove of jumbled alleys and soaring spires, making it perfect for an afternoon wander. Under the winding streets, you can also discover the mystical Templars' Tunnel, which leads from an ancient fortress to the city's magnificent port. The Dead SeaIf you fancy a break from the cities, this legendary attraction is just a few hours from Tel Aviv, via a handy direct bus service. Bordering both Israel and neighbouring Jordan, its 230 square miles of super-salty water reach a whopping 1,388ft below sea level, making it the lowest place on Earth. Miztpe RamonAdrenaline junkies will adore this desert gem, with wild adventures around every corner. From marvelling at the Ramon Crater's spectacular sci-fi vistas, to discovering wild camels on a Zin Valley jeep safari, there's plenty to get pulses racing. If you fancy taking it easier, there's also a friendly alpaca farm to explore, and an array of boutiques and bakeries in the eclectic Spice Route Quarter. EilatNestled in Israel's southernmost tip, this lively resort has long been a firm favourite with beach lovers, basking in 360 days of sunshine per year. With 20 stretches of shimmering sand, and attractions such as a dolphin reef and nature reserve, it's a great pick for a family trip - and divers are also in luck, with over 1200 species of fish to discover around the resort's stunning Red Sea reefs.
Israel Resorts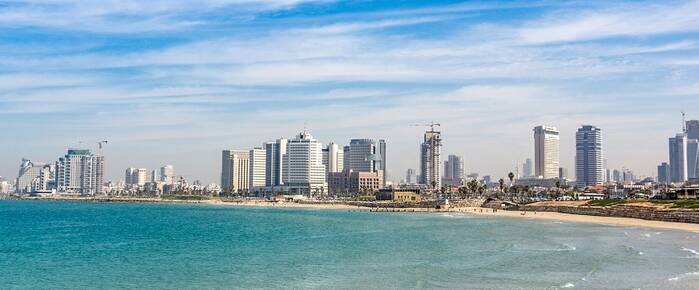 Spectacular Israel is a melting pot of history and culture, where east meets west and traditional meets modern around every corner. From the ancient w…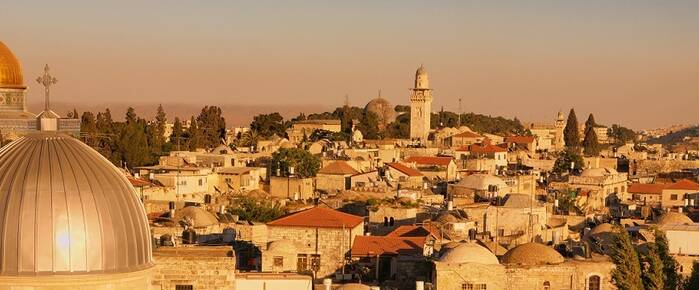 One of the oldest cities in the world, Jerusalem's ancient wonders and vibrant modern culture make it the perfect place to experience two destinations…