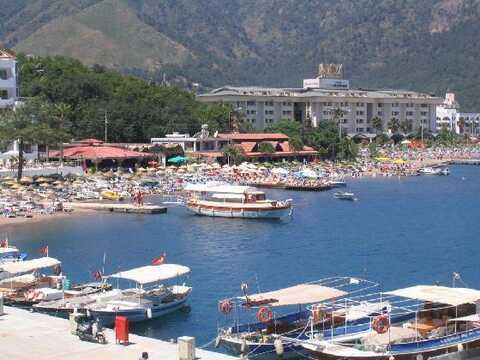 ---
Rolling pine-forest hills, a beach that stretches for days and hotels that cater for absolutely everyone, Icmeler is perfect for a family getaway.
---
Destination highlights
Water sports hotspot
Family-friendly beach destination
6km stretch of coastline
Central location for day trips
Jump to...
Beaches | Hotels | Nightlife | Food & drink | Events | Things to do | Weather | Important information | Reviews |
---
What are the best beaches in Icmeler?
Beach holidays in Icmeler are for everyone: sunworshippers, adrenalin junkies, or those who need a spot of peace. These beaches will leave you feeling wowed for days:
Icmeler Beach – The only beach actually in Icmeler, it's located along the coastline of the Datca Peninsula. This gorgeous beach boasts crystal-clear waters, and is a hotspot for everyone, with all types of activities for families, couples, and groups alike. It's blessed with a mountainous location, plenty of water sports to choose from, and is a hub for restaurants.
Turunç Bay – The small village of Turunç is the next bay over from Icmeler beach, and is a tiny destination with calm, sheltered waters, mountainous surroundings, and a quiet promenade.
Kumlubuk Bay - This gorgeous, secluded bay, just half an hour from Icmeler is famous for its sandy beaches and beautiful waters.
Marmaris Beach - The most popular beach near Icmeler with one of the world's largest harbours and views you'll never forget.
What are the top hotels in Icmeler?
Holidays in Icmeler are all about that relaxing beach break, whether it's a honeymoon or family trip. These hotels are going to add an extra dose of serenity to your holiday:
Aqua Hotel - Set on the beachfront, this five-star property is the place to be for water activities.
Grand Yazici Marmaris Palace - Located in a natural pine forest surrounding, this hotel has beachfront access and boasts many activities.
Sentido Orka Lotus Beach - Just steps from the clear waters, this five-star hotel has a five-star attitude with luxury living as its top priority.
Golmar Beach - This family-friendly hotel is only moments from the sands and offers a whole host of exciting amenities.
Seastar Hotel Marmaris - This Adult Only hotel has everything you need for a peaceful and romantic stay, including its own beach.
Mersoy Exclusive Aqua Hotel - An All Inclusive hotel, close to the gorgeous beach, with plenty to do.
What's the food like in Icmeler?
Turkish cuisine is among one of the tastiest in the world with a blend of unique flavours and these dishes will leave you wanting more:
Köfte - Turkish meatballs made of lightly spiced minced meat. They can be served on a stick or separately in balls.
Börek - Fine layers of dough cooked and layered with cheese, vegetables, or meat.
Dolma - Popular dish which includes vine leaves (or other vegetables) stuffed with rice and/or meat.
İskender Kebab - Originally from Bursa, this kebab features doner meat and is served up on pita bread with yogurt, tomato sauce, and vegetables.
Baklava - Fine pastry layered with walnuts or pistachio, and drenched in honey or syrup.
Looking for places to eat in Icmeler? Check out these top dining spots:
The Champagne Bar Restaurant - For a more refined dinner, this restaurant is renowned for cooking up the best steaks.
Waterfall Restaurant - The ambiance in this restaurant is second to none with its romantic courtyard and flowing waterfall. Plus, the menu offers a range of international cuisines to choose from.
Meryem Turkish Restaurant - Experience authentic Turkish cuisine at this restaurant with its range of traditional dishes.
Wayside Restaurant Bar - Located on the outskirts of Icmeler, this restaurant has a truly welcoming feel with dishes cooked to perfection.
Where is the best nightlife in Icmeler?
Although Icmeler is known as a peaceful holiday destination, the resort comes alive at night with karaoke, clubs, bars, and endless entertainment. These are the bars you need to be heading to:
Canary Bar - This bar has the best of both worlds; pop in during the day for a slice of cake, and come back at night for a fun-filled evening of drinks, BBQs, and music.
The Ace Bar - For mountainous views, live music, a friendly atmosphere, and the best range of cocktails, this bar (part of the hotel) is a great spot to begin your night.
Scotia Bar - It's all happening at this bar; live DJs and the shows put on by the barmen make for an electric night.
Irish Bar - The entertainment never stops at this bar with drinks by the bucketload and a variety of shows, including many incredible drag shows.
No Name Bar - A night full of surprises with great music and staff shows.
What events can I go to in Icmeler?
Icmeler is a quiet resort, however, there are many festivals and events nearby that can keep you entertained throughout the year. Here are the events to look out for:
Marmaris Maritime and Spring Festival (Spring) - Held throughout Spring, it's a fishing competition, sports event, and regatta all in one.
Children's Day (April) - On the 23rd of April, it's National Children's Day in Turkey and it's a day of celebration for all the family. The day-long festival includes inflatable playgrounds, dressed-up characters, face painting, and many more activities focused on children and youth. It's a very emotional day with many older locals reminiscing.
Marmaris International Yacht Charter Show (May) - The annual show is organised by the Marmaris International Yacht Club and is open to all yachts. It's held in Marmaris, only a short distance from Icmeler.
Victory Day (August) - Held on the 30th of August every year, Victory Day is a national holiday for all the locals in Turkey. Across the country, many celebrate by attending military parades and parading the Turkish flag to show patriotism.
Marmaris International Short Film Festival (October) - The annual festival is a project of MarmariSANart group and organised by many national and regional organisations. Its aim is to showcase the work of many filmmakers and is located only a short distance from Icmeler.
Marmaris International Race Week (October) - The annual event is organised by Marmaris International Yacht Club and hosts thousands of sailors from all over the world. Enjoy the opportunity to watch many boat races, close by to Icmeler in Marmaris.
Republic Day (October) - This is a national day of celebration for Turkey, and a public holiday. There are many ways to join in the festivities including attending traditional processions, watching live music gigs, and taking part in parades.
Things to do in Icmeler
Book a boat trip
The coastline surrounding Icmeler is absolutely stunning with views that you won't forget. Whilst there, book a boat tour to see the nearby islands, dive in and discover the marine life while snorkelling, and sunbathe on a luxury boat.
Try a new water sports
Icmeler is a hub for classic water sports with activities for all the family. Whether it's scuba diving, parasailing, hiring a jet ski, banana boating, canoeing, rafting, or swimming, it's the perfect place for an adventurer.
Go quad biking
Adrenalin junkies will love straying off the beaten path and hiring a quad bike in Icmeler. You can head around all the forested hills and experience some of the area's best views.
Book a Jeep safari
A great way to see Icmeler is by booking a Jeep safari tour. It'll take you through the wilderness, the quieter villages, and will stop off at the more secluded bays so you can freshen up with a dip in the water.
Visit the Atlantis waterpark
For a fun day out for all the family, hit the slides at the Atlantis waterpark. There is an activity for everyone, from the larger slides and pools to mini golf and restaurants. You're guaranteed a fun day!
What's the weather like in Icmeler?
Hot, dry summers make Icmeler the perfect holiday destination for your next summer break.
| | | | |
| --- | --- | --- | --- |
| Month | Average temp. | Sea temp. | Hours of sunshine per day |
| Jan | 5 °c | 17 °c | 3 h |
| Feb | 6 °c | 16 °c | 4 h |
| Mar | 9 °c | 16 °c | 4 h |
| Apr | 13 °c | 17 °c | 6 h |
| May | 18 °c | 19 °c | 9 h |
| Jun | 23 °c | 23 °c | 10 h |
| Jul | 25 °c | 24 °c | 11 h |
| Aug | 25 °c | 25 °c | 11 h |
| Sep | 21 °c | 25 °c | 10 h |
| Oct | 16 °c | 23 °c | 7 h |
| Nov | 11 °c | 20 °c | 5 h |
| Dec | 7 °c | 18 °c | 3 h |
Important Information about travelling to Icmeler
How long does it take to fly to Icmeler?
It takes about four hours to fly to Icmeler from the UK.
What's the time difference between the UK and Icmeler?
Icmeler is three hours ahead of the UK.
What currency do they use in Icmeler?
Icmeler is located in Turkey, so the local currency is the Turkish Lira.
What language do they speak in Icmeler?
The official language spoken in Icmeler is Turkish.
Do I need any vaccinations to visit Icmeler?
Please check with your healthcare provider for all up to date vaccination advice before booking your holiday.
Do I need to pay tax on my holiday to Icmeler?
There is currently no tourist tax to pay in Icmeler
Will Covid-19 affect my holiday to Icmeler?
We are currently closely following the Covid-19 situation and how it affects travel. You can find out the most up to date information about travel to Icmeler on the FCO website.
Do I need a visa to travel to Icmeler?
British passport holders don't need a visa to enter Icmeler. Holders of other passports are advised to check with their national embassy for any visa requirements.
Here are some other destinations you might be interested in...
---
Customer reviews
At On the Beach, we've sent many satisfied customers to Icmeler for a bit of sunshine. But don't just take our word for it, read some of their 5-star reviews below.
David:
We have used on the beach many with no problems at all. Would highly recommend
Pammy:
On The Beach were very helpful in helping me to finalise my accomodation after an exchange of Hotels
Louise Art:
I have booked at least four holidays with on the beach now and everytime the experience has been great and will continue to you book with the company
View destination on a map
Icmeler Weather
Icmeler has scorching summer temperatures that regularly top 30° Celsius, perfect for topping up your tan. Although some winter days can be overcast and wet, even in December the thermometer rarely drops below 10°!
To get the best from holidays in Icmeler, visit between May and November for permanently blue skies and sun, sun, sun!
Landscape
Icmeler's golden sands overlook the intermingled turquoise waters of the Mediterranean and Aegean Seas as they meet one another below the bay. The shoreline, which is enclosed by rows of breathtaking, pine-covered mountain scenery, is less busy than most Turkish resorts.
Icmeler is renowned for golden sunsets on the beach as the sun drops into the Mediterranean. It's well worth the effort to make the short trip up past the lush greenery for a spectacular panorama, with the two great seas stretching out into the distant horizon.
Things To Do on Icmeler Holidays
For a change of scenery, hop on a ferry or bus to Marmaris, just three miles to the south, for a walk through the gorgeous town. There's enough there to keep anyone happy, whether you're trawling through the massive shopping centre, relaxing on the beach, being a culture vulture or trying out the fantastic fare at one of the many great restaurants.
Excursions to the ancient sights that are everywhere here, such as the House of the Virgin Mary at Ephesus and the beautifully kept museum inside the old castle, should be top of your list.
Culture
Icmeler is famed as one of the friendliest localities in the Turkish Riviera, and the people here are always keen to help you out with directions and boat rides. Be sure not to miss the market on Wednesday!
Why not also take a trip to the nearby seaside towns of Datca and Bozburun for a more authentic taste of Turkey? These quaint resorts house old villages which take pride in conserving the exotic plant-life and flora that are only seen in these parts. Both towns also contain apiaries selling some of the sweetest thyme honey and almonds anywhere in Europe.
Nightlife
One great thing about Icmeler Holidays, aside from the landscape, beaches, food, weather and people (as if that wasn't enough), is that it's close to the buzzing bars and clubs of nearby Marmaris. But you don't have to travel to Marmaris to have a great night as there are enough late-night bars and clubs here to keep anyone happy.
Whether you want to dabble in a little karaoke, dance the night away in a club or check out live bands, you'll be singing along well into the wee hours!
Book a Icmeler Holiday now!
On the Beach should be your first choice when it comes to booking cheap Icmeler holidays. Combine your cheap Turkey flights and accommodation using our live booking system for the perfect tailor made holiday in the sun! What's more, the earlier you book, the more you can save thanks to our low deposit scheme. Pay as little as £25pp deposit on flight deposits and just £1pp hotel deposits. What's to think about?!