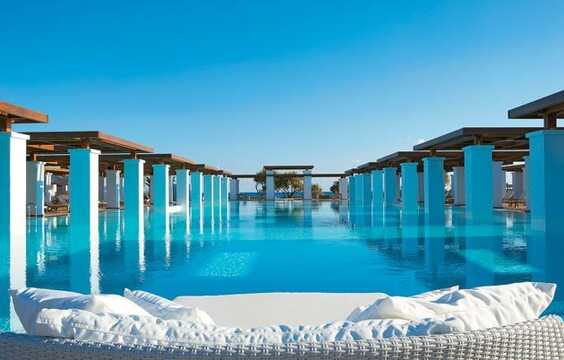 The Crete holidays destination of Gouves is a town and municipality in northern Crete, just east of the capital, Heraklion. Here you will find everything you could want from a holiday with a sun-drenched resort, fantastic sandy beach, traditional villages and fascinating archaeological sites. There's variety of accommodation, shops, places to eat and a pleasantly low-key nightlife.
Gouves is located conveniently close to Heraklion, with everything the city has to offer, and the airport, so is very easy to get to from the UK. On the Beach has great deals on Crete holidays customised to your exact requirements, so book now for a perfect holiday in the sun!
View destination on a map
Gouves Weather
Gouves enjoys hot, dry summers and mild winters. Temperatures in July and August range from over 30° Celsius during the day to 22° Celsius at night, perfect for topping up your tan! Kato Gouves is quite exposed to the sea, so experiences winds occasionally, but not enough to interfere with your Crete holidays.
The spring is fresher, with bursts of wild flowers across the countryside, and the autumn is pleasant as the resorts start to wind down. Only in the winter does the weather turn grey and wet with occasional cool snaps.
Landscape
Kato Gouves is a great holiday resort with a long, golden sandy beach looking north to the brilliant blue of the Cretan Sea. The beach is well developed with facilities for sunbathing, swimming and water sports, along with a variety of hotels and great restaurants and tavernas. Neighbouring beaches at Analipsi to the east, and Gournes and Chani Kokkini to the west are all good for swimming and worth a visit.
Gouves is ideally situated as a base to explore Crete's mountainous interior and the stunning coastlines in both directions, a beautiful and idyllic holiday location.
Things To Do on Gouves Holidays
Gouves has attractions to suit most tastes, with the modern beach resort at Kato Gouves and traditional Cretan villages further inland. Gouves Village provides a nice contrast to the bustle of the resort, and there are plenty of interesting historical sites to explore nearby. In a tree covered valley close to the village of Anopolis is The Monastery of Saint John 'Theologos'. During Turkish rule the monastery housed a 'secret school' and was a base for local resistance to the occupation.
About 6km inland from Kato Gouves is the spectacular Skotino Cave, which is one of the largest in Crete, with awesome chambers that were used as shrines by the Minoans. The mysterious Cave of Eileithyia takes its name from the goddess who, according to Greek mythology, was born there. The cave shows signs of habitation and religious rituals dating back to the Neolithic era.
Important archaeological sites around Gouves include the excavation at Amnisos and the Minoan villa in Kokkini Hani. Knossos, the most important Minoan site on the island, is reasonably close too. Gouves is conveniently close to Heraklion, and the capital has lots of attractions including museums, galleries and historical architecture.
Culture
Crete has a rich and diverse history. The island's Minoan era is credited as the birth of European culture, and evidenced of this advanced civilisation is scattered around the land near Gouves. The Archaeological Museum in Heraklion is home to the world's finest collection of Minoan artefacts. Through the centuries Crete has experienced successive invasions and occupations, from the Romans, Byzantines, Venetians and Turks, finally becoming part of Greece in the early twentieth century.
Gouves, like all Cretan towns and villages, has its own traditions, with Holy Week forming the centre of the religious calendar, along with saints' days, Independence Day on the 25th of March, and others. Heraklion hosts an extensive Summer Arts Festival from July to September, with art, theatre, and music, both traditional and modern. It's easy to get to from Gouves, and has something to suit all tastes.
Nightlife
Gouves is well served by bars, cafes, restaurants and tavernas, all offering a pleasant nightlife. There's plenty of places for families to spend an evening, particularly recommended is the Taverna Samaria that serves very good traditional kleftiko. A string of bars and cafes along the waterfront are good venues to enjoy a cocktail, but if you want a night of clubs and dancing you could head to the party resort at Hersonissos. Gouves' nightlife is peaceful and low-key, very good for families and those wanting to chill out after a day on the beach.
Book a Gouves Holiday now!
Gouves is a perfect holiday destination, with great beaches, cystal clear sea and a multitude of attractions to see. On the Beach has amazing deals on flights and accommodation, so book now for your perfect holiday in Crete!