---
Into exploring culture? Croatia has to be on your list. It's a cultural hotspot with a rich history and a vibrant food scene waiting for you to dive in.
---
Destination Highlights
Thousands of beaches to choose from.
One for the culture lovers.
Vibrant nightlife.
Foodie heaven.
On the Beach Perks - FREE Lounge & FREE Fast Track
Today is the day. You're up early, the other half has checked the passports a thousand times and you're on your way. The kids even had cake for breakfast… because you're on your jollies. Holiday mode is on! The only thing between you and the beach is the dreaded airport faff - the security queue, the food and drink queues and all that money you spend. But, what if we skipped that bit? Skip the security queue. Stroll into the swanky airport lounge and load up on free cake. Enjoy Free airport beers and Wi-Fi access to brag about it? Now, that's what I'm talking about. With FREE security fast track on all package holidays and FREE lounge access for 4 or 5* package holidays, that's exactly what you get. Your jollies just… jollier. Free security fast track and free lounge offers apply to outbound journeys only, and some airports may be excluded. Terms and conditions apply.
Jump to...
Beaches | Hotels | Nightlife | Food | Events | Things to do | Weather | Important information | Reviews |
---
What are the best beaches in Croatia?
With over 1,000 islands and a coastline that spans 3,600 miles, beautiful waters are around every corner on Croatia holidays.
Zrće Beach - Breath-taking sunsets meet all-night parties on the sands of this glorious bay.
Omis Beach - Pine trees line the soft, golden sands of Omis Beach, against the dramatic backdrop of the mountains.
Zlanti Rat Beach - An iconic island favourite, known better to some as the 'Golden Cape'.
Paradise Beach - A warm, shallow bay which stretches out for miles. Perfect for family holidays to Croatia.
Cape Kamenjak Bay - A rugged coastline, featuring natural coves that line the glittering Adriatic waters.
Banje Beach - A popular in-town gem providing jet-skiing and paragliding opportunities for the adrenaline junkies, and near some of Dubrovnik's best hotels.
What are the top hotels in Croatia?
Luxurious getaway bases. Hidden mountain villas. Cosy, family-run apartments. Croatia holidays have it all.
What's the food like in Croatia?
Croatia is a holiday destination and a half for the food lovers out there! The cuisine is massively diverse due to the influence of its various neighbours. Here are a few dishes to keep an eye out for:
Sarma - Found all over Croatia in winter, this well-loved dish consists of pickled cabbage leaves stuffed with minced meat, rice, and spices.
Crni Rizot - This black risotto is a seafood restaurant staple and a must-try, flavoured and coloured with local squid ink.
Strukli - Cottage cheese and sour cream-stuffed pastry, so hearty and warming it gives the Cornish pasty a run for its money.
Pasticada with Gnocchi - Beef that's been marinated for days, then braised for hours in its own juices, then again with red wine, served with homemade gnocchi. Every family along the Dalmatian coast of Croatia has a recipe for this delicacy.
Peka - A mixture of meats and veggies seasoned with spices, honey, cognac, and traditional Mediterranean herbs, cooked together in a covered pot in a fireplace. A festival for your mouth.
Here are some of our favourite spots to dig into Croatia's mouth-watering cuisine:
La Struk, Zagreb - A restaurant serving only Strukli! Masters of their craft, the chefs here provide traditional types alongside more modern (some even sweet!) interpretations.
Plavi Podrum - An award-winning restaurant that serves some of the freshest seafood around, caught just a stone's throw away in the charming Volosko harbour.
Carpaccio, Zagreb - For those who love Italian food. The shrimp tagliatelle is always a winner, and the extensive wine list never goes down badly either.
ARTiČOK, Split - A cosy restaurant with all the Croatian classics, and a good vegetarian, vegan and gluten-free selection too. Everyone leaves ARTiČOK with a smile on their face.
Where's the best nightlife in Croatia?
Croatia is fast becoming known for its bustling nightlife and festival scene, but there's plenty for those that like a slower pace too.
The Novalja strip at Zrće Beach - Home to more clubs than you can shake a (glow) stick at! A party-goers paradise nicknamed the 'Croatian Ibiza'.
Carpe Diem - A chic waterfront social spot in Hvar for those who like to dress to impress.
Boogaloo, Zagreb - A quirky cinema-turned-music venue often hosting local live bands.
Academia Club Ghetto - A bohemian club in Split with a cosy dance area and a friendly vibe.
Strossmartre - A pretty area of Zagreb where outdoor bars decorated with glittering fairy lights host live music. Popular with tourists and locals alike.
What events can I go to in Croatia?
A country that really knows how to celebrate, Croatia's calendar is jam-packed with history, culture, and beauty.
The Festival of Oysters (March) - Sample this local delicacy made into lots of different dishes in South Dalmatia, accompanied by local wines and traditional singing and dancing.
100 Miles of Istria (April) - A weekend-long endurance event to challenge the fittest of the fit, enter if you dare!
Festival of Flowers (May) - Held in the cellars of Diocletian's Palace, you can enjoy themed displays created using Split's most gorgeous blooms during the Festival of Flowers.
Pula Film Festival (July) - Both Croatian and international films are shown throughout Pula in the oldest festival of its kind in the country. Try to catch one at the town's magnificent amphitheatre!
Rabska Fjera (July) - A famous medieval-style festival, complete with re-enactments and authentic costumes on the fairy tale island of Rab.
Sinjska Alka (August) - A historic horseback tournament, now part of the UNESCO Intangible World Heritage List, currently in its 306th year! Not one to be missed if you're around in August.
Theatre Night (November) - One for the theatre-buffs. Around 80 venues in more than 30 towns and cities in the country hold free (or low-cost) performances for around 40,000 visitors a year. Free workshops and tours have become commonplace now too!
Things to do in Croatia
Go back in time
Roam Dubrovnik's famed Old Town Walls - a UNESCO World Heritage Site, and Croatia's most glamorous tourist destination. Marble streets surrounded by medieval fortresses and towers transport you to another world.
Lose yourself to the lakes
16 turquoise lakes, each connected by waterfalls, await you in Croatia's most popular inland attraction - Plitvice Lakes National Park. Keep your eyes peeled for the eagles and falcons known to fly around this pristine park.
Mountain bike in Mljet
Channel your inner adventurer and hire a mountain bike to explore the woodland of Mljet National Park. The unspoiled beauty here is heaven for nature lovers. Look out for the 12th century Benedictine monastery floating on an island within!
Bask in the charm of Rovinj
A romantic, Venetian-era seaside town that you can't help fall in love with. Pastel-coloured houses frame a pretty fishing harbour, with boutique-style hotels, up-market seafood restaurants and trendy art galleries too.
---
Take a look at our article:
11 reasons to visit Croatia
!
---
What's the weather like in Croatia?
Whether you run warm or cool, 2022 holidays to Croatia will offer the perfect temperature for you! The country's weather varies from place to place, tending to be cooler in winter the further north you venture from the southern Adriatic coast. As the averages show below, this lovely stretch of sand and sea, known as the Dalmatia region, has blissfully sunny summers, and mild winters.
| | | | |
| --- | --- | --- | --- |
| Month | Average temp. | Sea temp. | Hours of sunshine per day |
| Jan | 8 °c | 13 °c | 4 h |
| Feb | 8 °c | 12 °c | 5 h |
| Mar | 10 °c | 13 °c | 6 h |
| Apr | 13 °c | 14 °c | 7 h |
| May | 17 °c | 18 °c | 9 h |
| Jun | 21 °c | 22 °c | 10 h |
| Jul | 24 °c | 24 °c | 12 h |
| Aug | 24 °c | 25 °c | 11 h |
| Sep | 20 °c | 23 °c | 8 h |
| Oct | 16 °c | 20 °c | 6 h |
| Nov | 12 °c | 17 °c | 4 h |
| Dec | 9 °c | 15 °c | 4 h |
Important Information about travelling to Croatia
How long does it take to fly to Croatia?
It takes about 2h 30m to fly to Croatia from the UK.
What's the time difference between the UK and Croatia?
Croatia is 1 hour ahead of the UK.
What currency do they use in Croatia?
The local currency is the Kuna.
What language do they speak in Croatia?
The official language spoken in Croatia is Croatian.
Do I need any vaccinations to visit Croatia?
Please check with your healthcare provider for all up to date vaccination advice before booking your holiday.
Do I need to pay tax on my holiday to Croatia?
Travellers over the age of 12 are charged tourist tax. This costs around 1 Euro per day for travellers over the age of 18 and 0.50 Euro for travellers between the ages of 12 and 18.
Do I need a visa to travel to Croatia?
British passport holders can travel to Croatia for up to 90 days in any 180-day period without a visa. Holders of other passports are advised to check with their national embassy for any visa requirements.
Will Covid-19 affect my holiday to Croatia?
We are currently closely following the Covid-19 situation and how it affects travel. You can find out the most up to date information about travel to Croatia on the FCO website.
---
Customer reviews
At On the Beach, we've sent many satisfied customers to Croatia for a bit of sunshine. But don't just take our word for it, read some of their 5-star reviews below.
Amanda Burroughs:
Always my first choice for booking holidays. Seamless from beginning to end every time. Great locations, accommodations and prices.
Clinton Vince:
Had a fantastic holiday. The booking was smooth and straight forward, the prices were good. The whole experience went like clockwork. On the beach are on the ball when it comes to booking a holiday. This is the 4th time I've booked with them
Janet:
Excellent service and very detailed customer care meaning keeping me up to date with everything also keep giving me reminders of what I should have done Thank you
View destination on a map
Croatia Weather
Croatia is blessed with a beautiful Mediterranean climate, which means long hot summer days with a cool evening breeze. Temperatures in the summer months range from around 20°C to a peak of about 30°C in August, and never get uncomfortable as most of the accommodation is coastal and welcomes a tender breeze.
Croatia Resorts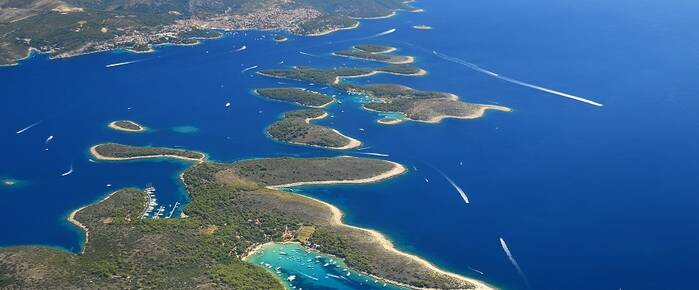 A city for everyone, Split has the beaches, nightlife, culture and cuisine to create an unforgettable holiday to Croatia. Explore the rustic streets o…