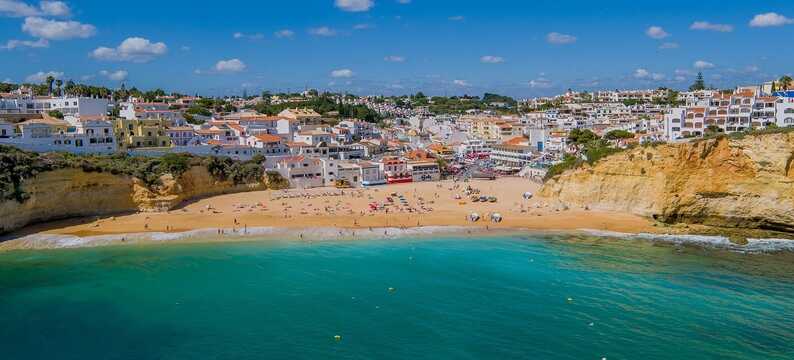 Read more about Carvoeiro
Carvoeiro is where gentle hills and golden cliffs meet the sparkling sea. This traditional Portuguese fishing village has become something of an open secret for relaxing beach escapes on the Algarve Coast. Nestled between Portimao and Albufeira, this resort is a great choice for a laid-back couples escape or family holiday in Portugal. A curve of soft sand, picturesque streets and warm summer sunshine await!BeachesPraia de Carvoeiro is a little slice of beachy heaven. The gorgeous sandy beach is backed by sandstone cliffs that run along the coastline for as far as the eye can see. The clear, blue waters are perfect for snorkelling, paddling and swimming, and boat trips are a must-do if you want to explore the shores further on your holiday to Carvoeiro.Food & DrinkFresh seafood and traditional Portuguese cuisine are easy to seek out here, but there are also plenty of home-from-home flavours being served in restaurants all over the resort. Looking for a caffeine fix? You're in luck, Portuguese coffee is a hipster's dream. Sip it for yourself at a local café as you take in the bright local colours from a terrae table.CultureCulture vultures will feel right at home on Carvoeiro holidays. Despite the modernisation of some areas, the village is still home to some quaint and fascinating architecture. The nearby town of Lagoa is the birthplace of the 11th Century poet Ibn Ammar, while the village of Silves - just a few kilometres from Carvoeiro - is home to the ruins of a mesmerising medieval castle.NightlifeThis pretty fishing village once had just one main street that was home to a handful of bars, as well as one or two cafes. As the town's popularity grew, so too did Carvoeiro's evening scene. Restaurants and bars can now be found scattered across the town, all serving great atmosphere and delicious drinks. The village square is also popular during the evenings, where visitors can watch street performers while enjoying a drink at one of the several bars. For those seeking a bigger night out, the nearby city of Portimao is home to several clubs and late night bars and is very popular with tourists. Alternatively, make the short journey to Albufeira and experience one of the most bustling resorts for nightlife in Portugal.Important InformationFlight Time: 2.5 hrs Time Difference: There is no time difference between the UK and Portugal.Currency: EuroOfficial Language: PortugueseVaccinationsPlease check with your healthcare provider for all up to date vaccination advice before booking your holiday.
View destination on a map
Carvoeiro Weather
Carvoeiro is blessed with a Mediterranean climate and year-round sunshine, which is just what we like to hear in the grey UK! Known for its hot, sunshiney summers, temperatures in the Algarve region reach highs of 27°C in the summer months.
Things To Do on Carvoeiro Holidays
Go cave huntingThe cliffside caves along the shores of the Algarve are famous for their beauty. The best way to explore them is by boat. Join a guided tour or hire a vessel yourself to see natural rock formations that will take your breath away. As an added bonus, take a tour at sunset to really see the Portuguese seascape at its very best.Get your sport on Carvoeiro's sports scene is small but perfectly formed, and the resort is well-known for its immaculate facilities. You'll find an attractive 3-hole golf course where you can practice your swing, as well as the Carvoeiro Clube de Ténis - one of the Algarve's most celebrated tennis centres. Prefer a more laid-back game? Why not try your hand a lawn bowls at one of the local clubs?Stroll along the boardwalkCarvoeiro's boardwalk is an attractive way to take in the sights and sounds of the village and the landscape beyond. This waterside promenade offers striking views over the Atlantic Ocean, and also gives access to the impressive rock formations of Algar Seco and the Insta-worthy Boneca view points.