Read more about Cape Verde
Destination highlights
10 islands to choose from
Tropical climate
Bundles of white-sand beaches
The third-largest nesting site for loggerhead turtles
On the Beach Perks - FREE Lounge & FREE Fast Track
Today is the day. You're up early, the other half has checked the passports a thousand times and you're on your way. The kids even had cake for breakfast… because you're on your jollies. Holiday mode is on! The only thing between you and the beach is the dreaded airport faff - the security queue, the food and drink queues and all that money you spend. But, what if we skipped that bit? Skip the security queue. Stroll into the swanky airport lounge and load up on free cake. Enjoy Free airport beers and Wi-Fi access to brag about it? Now, that's what I'm talking about. With FREE security fast track on all package holidays and FREE lounge access for 4 or 5* package holidays, that's exactly what you get. Your jollies just… jollier. Free security fast track and free lounge offers apply to outbound journeys only, and some airports may be excluded. Terms and conditions apply.
Jump to...
Beaches | Hotels | Food & drink | Nightlife | Things to do | Weather | Important information | Reviews |
---
What are the best beaches in Cape Verde?
With 10 beautiful islands to choose from, Cape Verde holidays have a stretch of coast to suit every occasion, from kid-friendly bucket-and-spade spots to scenic backdrops for those hand-in-hand walks with your special someone. Santa Maria Beach in
Sal
is one of the most popular beaches in Cape Verde, home to a hub of watersports even in winter months, and over 3km of powder-soft sands framed by buzzing bars. For a family outing, Prainha Beach is another great place to lay down a towel, with local vendors to keep you refreshed with snacks and drinks, and calm waters ideal for paddling. Prefer something a little quieter? Ponta Preta Beach is the perfect nook to escape the business of Sal, with soft, uncrowded sands. If you want to feel like you've stepped straight into a postcard, though, then head to Tarrafal Beach in Santiago - a gorgeous blend of golden sands and green countryside, where you'll find local fishermen, music festivities and delicious seafood venues. We weren't lying when we said there's a beach for everyone!
​
​
What are the top hotels in Cape Verde?
From loud-and-proud beachfront resorts to charming apartment complexes, narrowing down the best hotels in Cape Verde is no easy task - but we tried!
For that classic family holiday with big beaches and big fun, it's all eyes on Melia Tortuga Beach Resort And Spa - a five-star complex with tropical gardens, a choice of pools, a swim-up bar and a kids club to keep the little ones occupied. Looking to get away from the kids instead? Melia Llana Beach Resort & Spa does adult-only holidays right, with a beachfront location, lagoon-style pools, daily activities (who said adults can't have fun too?) and relaxing spa facilities. It's possible to do Cape Verde on a budget, too, although at Tropical Aparthotel it certainly won't feel like it. With a delicious breakfast to greet you in the morning, a large outdoor pool and a bar where you can cool off with some between-swim drinks, this charming hotel is proof that the best holidays don't always have the biggest price tag.
​​
​
What's the food like in Cape Verde?
​
Seafood features heavily on the menu in Cape Verde, and thanks to its island status with plenty of surrounding water, it's always as fresh as it comes. Perhaps the country's most popular dish, though, is cachupa - a slow-cooked stew made with vegetables, beans and either meat or fish. If you're craving something a little closer to home but with a twist, then try a traditional pastel - a fried parcel filled with shredded tuna, chicken or beans and seasoned with paprika, or ressois, which is essentially a Cape Verdean croquette, with mashed potato, shredded fish (usually mackerel), garlic and onions stuffed into a thin dough and rolled in breadcrumbs, before being deep-fried for a deliciously crispy coating.
Other crowd-pleasing dishes to keep on your radar are cuscuz, which is across between a cake and a cornbread, often served with breakfast foods or topped with butter, and queijo de cabra com doce de papaia, which might sound confusing, but it's essentially just goat's cheese topped with papaya jam for a sweet treat. Wash it all down with some local Fogo coffee, or - if you're feeling brave - some grogue - a Cape Verdean sugar cane rum.
​
​​​
​​​​​​
Where's the best nightlife in Cape Verde?
Cape Verde is quite a laidback place, so most of its nightlife is centred around traditional dancing and live music. As the sun starts to set, you'll hear plenty of local venues playing Morna music - traditional Cape Verdean music with guitars, violins, piano and native lyrics. There are, however, still plenty of clubs that will play more modern pop music, with Santa Maria in Sal catering to those craving more of a party scene. From beach clubs and cocktail bars to One Love Reggae with its rooftop island vibes, and
Disco Pirata
, which - yep, you guessed it - is a pirate-themed disco and nightclub, there are plenty of places to keep you entertained in the evening.
​
Things to do in Cape Verde
Spot the turtles
Sal Island is home to Project Biodiversity - a conservation which aims to protect the loggerhead turtles in their natural nesting sites, so it's a great opportunity to bring the kids along and learn all there is to know about these fascinating sea turtles!
​
Visit the salt mines
The Pedra de Lume salt mines are pretty to look at with their shades of pink and white along the mountains, but if you take a dip in one of the salt ponds then you can admire the view whilst reaping the medicinal benefits of the water.
​
Head to the Blue Eye
Buracona, also known as the Blue Eye, is a natural turquoise-coloured pool in Sal, formed by volcanic lava which creates a hole in the ocean and fills with water. You can take a swim in the pool on calmer days, or wander along the wooden walkway and admire the view.
​
Grab your snorkel
Cape Verde's surrounding oceans provide plenty of opportunities to snorkel, but the village of Murdeira in particular is a great spot to explore what's beneath the water's surface.
​
Take a ride along the sand dunes
Boa Vista's sweeping sand dunes are a sight to behold, and if you really want to immerse yourself in the experience, then you can hop on a quad bike for a desert-like adventure.
​
Hike to Monte Verde
Monte Verde is the highest peak in São Vincente, so the journey might be a little strenuous, but it's more than worth it for the panoramic views at the top.
​
​
What's the weather like in Cape Verde?
Temperatures in Cape Verde soar above and beyond those of the usual Mediterranean hotspots, with around 9 hours of sunshine per day in peak season. Luckily, thanks to its mid-Atlantic location, there's also a refreshing breeze most of the time.
| | | | |
| --- | --- | --- | --- |
| Month | Average temp. | Sea temp. | Hours of sunshine per day |
| Jan | 23 °c | 23 °c | 6 h |
| Feb | 23 °c | 23 °c | 7 h |
| Mar | 23 °c | 23 °c | 8 h |
| Apr | 23 °c | 23 °c | 9 h |
| May | 23 °c | 23 °c | 8 h |
| Jun | 23 °c | 24 °c | 7 h |
| Jul | 23 °c | 26 °c | 6 h |
| Aug | 23 °c | 27 °c | 5 h |
| Sep | 27 °c | 27 °c | 6 h |
| Oct | 27 °c | 27 °c | 7 h |
| Nov | 26 °c | 26 °c | 7 h |
| Dec | 25 °c | 25 °c | 6 h |
​​
Important Information about travelling to Cape Verde
How long does it take to fly to Cape Verde?
It takes about 6 hours to fly from the UK to Cape Verde.
​
What currency do they use in Cape Verde?
The local currency in Cape Verde is the Cape Verdean Escudo.
What's the time difference between the UK and Cape Verde?
The time in Cape Verde is one hour behind the UK.
​
What language do they speak in Cape Verde?
The official language spoken in Cape Verde is Portuguese.
​
Do I need any vaccinations to visit Cape Verde?
Please check with your healthcare provider for all up to date vaccination advice before booking your holiday.
​
Do I need to pay tax on my holiday to Cape Verde?
Yes, a tourist tax of €2 per person, per night for up to 10 nights (to a maximum of €20 for each guest) is payable for all visitors staying in hotels, apartments, villas, and bed & breakfast establishments in Cape Verde.
​
Will Covid-19 affect my holiday to Cape Verde?
We are currently closely following the Covid-19 situation and how it affects travel. You can find out the most up to date information about travel to Cape Verde on the
FCDO website
.
​
---
Customer reviews
At On the Beach, we've sent many satisfied customers to Cape Verde for a bit of sunshine. But don't just take our word for it, read some of their 5-star reviews below.
Marie:
Easy booking. Great prices. Fast confirmation.
Debbie:
Another great holiday booked. Exactly what we wanted and at a great price..
Nic:
Never had a problem, and so easy to to book. We always use for our holidays. Highly recommend.
View destination on a map
Cape Verde Weather
Holidays to Cape Verde can be sure to include great weather. The average temperature for all the islands is a year round 25C. The temperature can fluctuate depending on the season, but not more than 10C in either direction. Between August and October there is, typically, a higher level of rainfall, however these are usually short sharp bursts of rain and it can go days in-between showers.
Things To Do on Cape Verde Holidays
ShipwreckedDon't miss out on the chance to visit one of the most iconic Cape Verdean sights; the Cabo Santa Maria. Located to the north of Boa Vista, this shipwrecked freighter remains trapped in the coast's sands to this day.Dune RiderFeel the wind in your hair while you take on Cape Verde's sand dunes from the back of your very own quad bike.Gone Fishin'Cast your line with the pros to try your hand at deep-sea fishing. See what you can catch or just enjoy the uninterrupted sea views while you watch the masters at work.Turtle TimeIf you're in town between July and September, you might just be lucky enough to catch a glimpse of the loggerhead turtles creeping onto the beaches to make their nests. If you're visiting a little bit later, September to December, you may even get to see the baby turtles making their way to the ocean after hatching.
Cape Verde Resorts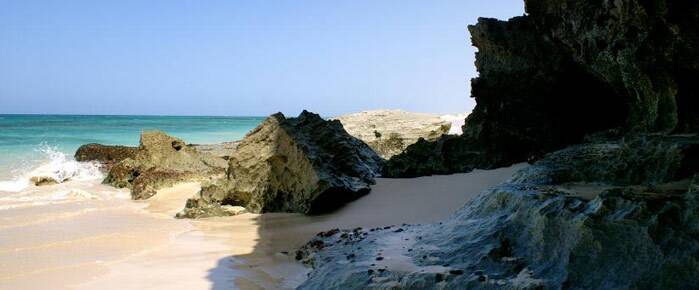 Holidays to Sal, the most popular island in the Cape Verde archipelago, are full of fun and adventure. The island was actually named Sal because it is…