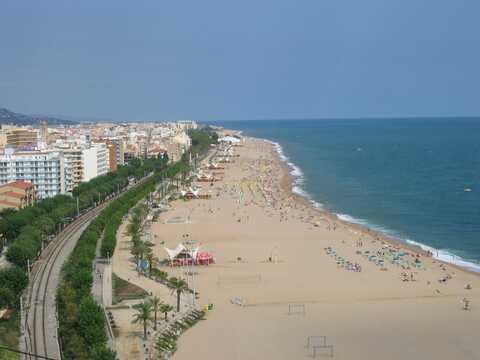 Just 50km north of Barcelona's easy UK connections, local and international holidaymakers alike flock on holidays to Calella to soak up some of the best that this thriving, modern region has to offer.
Teenagers and families with young children in particular, are in for a fantastic time in Calella due to the lively and exciting facilities nearby. PortAventura theme park is just a short bus ride away and has something to keep all the family entertained. For those looking for somewhere to cool off, Calella runs a free bus service to Water World, where you'll find a mix of adrenaline pumping attractions and places to relax.
If you're hoping for a holiday destination that boasts a lot of history and culture, Calella will not disappoint you. The Lighthouse of Calella offers amazing views of the Mediterranean Sea and the city skyline, as do the amazing ruins at Guard Towers Las Torretas. We also recommend heading into the centre of Calella to explore the Church of Santa Maria which was rebuilt in the 18th century and is known for its simple interior.
One of the biggest attractions of Calella are the three main beaches that boast golden sands, calm waters and great weather. You can also partake in a variety of watersports including windsurfing and sailing. Dalmau Park is a paradise of greenery offering amazing views of the Mediterranean and perfect for an early morning stroll.
So no matter who you are, you'll find something for you in Calella.
View destination on a map
Calella Weather
As you would expect from this part of the word, Calella basks in a coastal Mediterranean climate, ensuring year-round mild temperatures. Autumn and spring enjoy cooler weather, or come in July and August for summer at its hottest. The weather is perfect for Calella holidays no matter what time of year you visit. East is ideal for golf, summer is excellent for sun tanning while Autumn is an ideal time for an offpeak holiday in Calella. Just don't forget to slap on that high-factor sunscreen!
Landscape
The beaches are the resort's biggest pull for most people on Calella holidays. The three-kilometre seafront boasts a huge variety of activities and services including watersports, kids' clubs and even a beach library! Platja Gran Calella is the largest of the three main beaches. If the seven bars, restaurant, and rafts anchored offshore are not enough, catch a water-taxi to a neighbouring resort, or stroll along the attractive gardens nearby.
Beyond the main beaches, you'll find charming, secluded rocky coves. The spotless main beaches have consistently received the European Blue Flag for water quality and cleanliness.
Things To Do on Calella Holidays
Explore the old town with its narrow streets, traditional bars and bodegas. The parish church of Santa Maria is beautiful, as is the 14th Century Casa dels Salvadors. The town's museum charts local history from pre-Roman times, and, to the south-west, you can see the ruins of some old communications towers built in the mid-19th Century, and the old lighthouse.
Stroll through the lovely Dalmau Park, a peaceful spot in the heart of Calella, with Mediterranean pinewoods, fountains and play areas. Getting around couldn't be easier – just jump on the tourist mini-train circling the town every half-hour in high season.
Further afield, Barcelona and all it has to offer are less than an hour away by the regular train service.
Culture
Colourful fiestas bring the streets to life, and are sure to be a high spot of your Calella holidays. In the summer, you can see the famous Sardana danced at the beachfront on Sunday evenings. Early June brings a big Sardana festival, and in mid-September, visit the La Minerva music festival, complete with paella contest and a parade of huge, beautifully sculpted papier mache figures. Other events include an October beer festival, and a February carnival.
Nightlife
Calella has dozens of late-night bars, making for a lively after-dark scene, with a host of Spanish-style fiestas, foam parties and hotel entertainment. For all-night partying, head for the south-west of the resort, where the clubs are. You can even grab a free limousine ride to travel between some of them. For tapas and traditional Catalan specialities, head for the old town.
Nearby Malgrat de Mar and Blanes offer a different atmosphere at night and are both worth a visit during your holidays to Calella.
Book a Calella Holiday now!
Charming Calella offers the perfect blend of relaxation, culture and activity for anyone considering Costa Brava holidays. Whether you want to relax, take in the historical Mediterranean charm or just chill out and soak up the relaxed Spanish lifestyle, you'll be catered for in Calella.
On The Beach has brilliant deals on flights and accommodation available right now. It couldn't be easier to jet off to this gem of a resort!