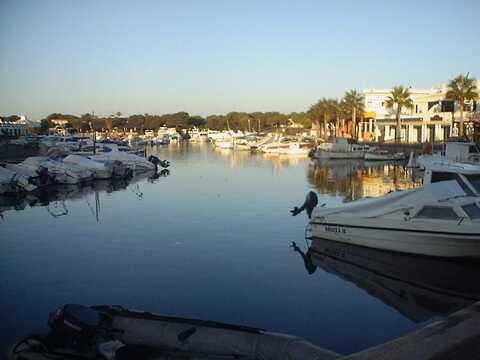 Read more about Cala N Bosch
If staying at a relaxing and beautiful resort sounds like your idea of a break away from the stresses of everyday life, then Cala n Bosch holidays will be everything you've dreamed of. Located on the extreme south west coast of Menorca, and only around 10 kilometres away from the old capital of Ciutadella, Cala n Bosch is a modern and charming resort, with all the amenities you'll need for a memorable holiday in the sun.
Enjoy thriving traditional restaurants such as the highly-respected Avanti and excursions to neighbouring towns including Cala Blanca. Take your pick of the small but amazing beaches including Son Xoriguer which offer an array of watersports activities and exciting attractions such as Aquarock waterpark which is perfect for families looking for a fun-filled afternoon. You'll also find a mini wooden train that tours the resort and gives you the chance to explore all the beauty that Cala n Bosch has to offer.
With a fantastic Marina to wander around and the fun-filled Goody Goody Park for children too, this small yet charming resort really does have something for everyone. For those looking to experience some of the culture Menorca has to offer, the incredible Cathedral Ciutadella is just a short ride away and boasts centuries of history.
If you want to experience Menorca holidays with fresh and impressive scenery, lots of places to dine, and plenty of entertainment, Cala n Bosch is the right place to go!
View destination on a map
Cala N Bosch Weather
You'll enjoy the very best of a Mediterranean summer if you choose to take you Cala n Bosch holidays in the peak months of July and August. Temperatures then are a sizzling 30° Celsius during the day and around 24 at night, so you're guaranteed lots of fun in the sun! If you're not looking at a summer holiday, how about enjoying the charms of Cala n Bosch in September or October?
Outside of peak months the crowds will be less evident, but the weather will still be wonderfully warm at an average of around 23° Celsius, so you'll still be able to spend plenty of time on the beach. Whatever time you visit though, make sure to watch out for the green flag on the beach to enjoy a safe and pleasant day out.
Landscape
In spite of its small-town status, Cala n Bosch offers a landscape to compete with any major place you've been before. The most astounding part of town is the marina, which offers clean and pristine walkways to stroll along while enjoying the view of the boats bobbing gently on the water. You'll also love the beach, which is small but tranquil and extremely hygienic. Lined with jagged rock and trees, it's an unspoilt and paradisiacal location that you'll enjoy gazing at all day.
The architecture of Cala n Bosch, in spite of the towns contemporary status, looks noticeably traditional, with whitewashed hotels and buildings nestled among quiet tree-lined streets, which are themselves well maintained. Outside of town the landscape becomes much more rugged, with scorched fragments of earth. A walk outside of town in the evening to gaze upon the lights of the town below will provide an especially romantic view!
Things To Do on Cala N Bosch Holidays
Where to start? There's lots to see and do on holidays in Cala n Bosch, so after your day chilling out at the beach you'll enjoy a fantastic evening at the marina. If you'd like to spend your evening with a jug of Sangria and an amazing view, the marina is the place to go! During the evening, it also houses a host of local stalls selling handicrafts and other locally made products, so holiday souvenirs will easily be found here! From here you can also take trips on glass-bottomed boats, which will enthral marine lovers of any age.
For the kids, the entertainment park in town offers a range of bouncy castles, a mini golf course and even a land train, ensuring they'll be busy all day! The ancient sights of Ciutadella will certainly provide a good day out to, providing an intimate glimpse into Menorca's troubled but fascinating past!
Culture
Cala n Bosch is a young town, which explains its lack of historical sights. For a fun and educational day out though, the old capital of Ciutadella is just a short taxi or bus ride away, so if you're a history-lover then you'll want to visit there as soon as possible! It's recommended to go early in the morning, when you'll be able to beat the crowds.
The town's history will have you captivated; it was founded in the 4th Century, and has had an extremely troubled past, with several invading nations forming governments including the Moors and the Turks, and even the Romans. You'll be able to gaze at the remnants of these occupations, like the Cathedral of Menorca, which was constructed on the sight of a Mosque built by the Turks, while the medieval sights of the old town will provide plenty of great photo moments!
The cultural focal point of holidays to Cala n Bosch is the thriving market at the marina, which offers everything in the way of locally made produce and crafts, and will have you visiting again and again. As a town with a registered population of just 107 though, its fiesta's are nowhere near as large as a town like Ciutadella or Cala Blanca.
In June Ciutadella celebrates the Fiesta De Sant Joan on the 24th, which features music and parades, as well as a villager walking through town dressed in lambskin to celebrate John the Baptist. In July, you can visit the Any De Sa Desgracia on the 9th, which commemorates Ciutadella's destruction by invading French and Turkish troops.
Nightlife
Like lots of other resorts in Menorca, nightlife in Cala n Bosch is mainly centered around your hotel, but if you want to take in the evening air elsewhere then you should definitely do so. The busiest and most lively place in the town is the marina, which houses a great selection of lively bars and restaurants serving you all the wonderful food and drink you'd expect from a Menorcan town. Not only that, but the marina also possesses a good few music bars, which will be fantastic for those who enjoy listening to live bands.
Cala n Bosch does not have a nightclub, but if partying all night is what you're after then Ciutadella is only 10 kilometres away. Cala Santandria is also well worth a visit if you want to spend the night partying.
Book a Cala N Bosch Holiday now!
Cala n Bosch is a contemporary resort that will provide a great holiday for anyone; with fantastic bars, restaurants and markets, wonderful views and activities for kids too, it's a multi-faceted resort that caters for all visitors regardless of age.
With our live booking system you can find those bargain flights and hotels now to customise your Cala n Bosch holidays just the way you want!