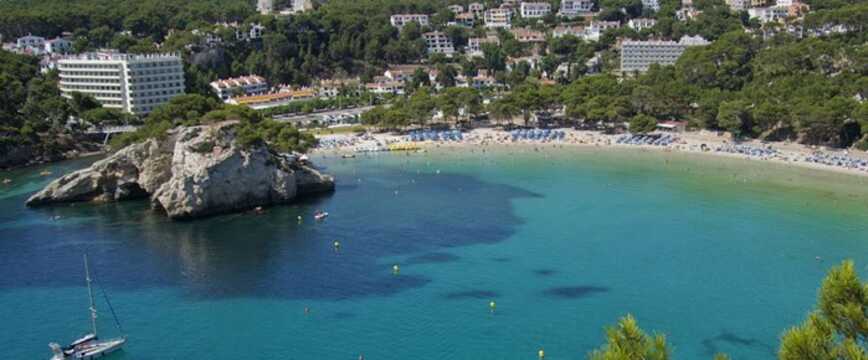 Read more about Cala Galdana
With its reputation as the Queen of the Cala's, Cala Galdana holidays are the perfect remedy for your stresses. Located on the central south coast of Menorca, the contemporary town is part of municipality of Ferreries, and is hugely popular with tourists all over Europe. Only 35 kilometres from Mahon, Cala Galdana is a popular and idyllic sunshine resort with more than enough leisure activities to make for a memorable break. It offers mini golf, watersports, scuba diving, cycling opportunities and even a small water park. So whether you're on holidays to Cala Galdana with family or a couple wanting to relax and have fun, there is more than enough to keep everyone entertained.
Though small in size, Cala Galdana will provide a big welcome for everyone. If it's fantastic scenery, relaxation or fun in the sun you're looking for in your Menorca holidays, then Cala Galdana is just the resort for you!
Widely regarded as perhaps the most beautiful area in all of Menorca, Cala Galdana's landscape is truly breathtaking. The sheer amount of natural beauty will astound you; its almost-vertical pine-clad cliffs, and crystal waters, located inside a horseshoe bay, have probably had more photos taken of them than anywhere else on the island! The planning of the town also appears to have been performed with careful consideration; with well-maintained roads, attractive villas and ornate hotels, the architecture of the town is elegant, and more importantly subtle, in deference to the amazing natural landscape that surrounds it.
Watch out for the Algendar River, which flows from the valley behind the bay and into the sea, adding an extra charm to Cala Galdana. Those with mobility problems should book their hotels carefully, as some hotels can be located high upon steep mountains. If you enjoy exercising, then a walk in the surrounding hills will be perfect for you, providing ample opportunities for peaceful strolls.
If you're looking for a wild night out on your Cala Galdana holidays, then visiting the capital Mahon or nearby Cala Blanca might provide a better night out for you as Cala Galdana has no nightclubs. If you're looking to relax though, Cala Galdana is the place to be! Your hotel will provide you with a quality evening of entertainment, whilst in town there is also a range of bars and restaurants with a friendly atmosphere. Kids are especially welcome, and even treated by the staff in most bars, which is great news if you have children.
View destination on a map
Cala Galdana Weather
With the Balearic Islands enjoying typical Mediterranean weather of hot summers and mild winters, you'll find a holiday to Cala Galdana will have enjoyable weather almost any time you choose to visit. The summer months are of course the warmest, with virtually no chances of rain, and temperatures of about 30° Celsius at their peak, with at least 10 hours of sun a day. Humidity can also fluctuate, but because the town receives a southwesterly sea breeze you'll find that even in the middle of summer the heat is not too much.
If you enjoy winter breaks, then Cala Galdana holidays around September or October will prove greatly enjoyable, as the temperatures are very mild. Rain levels do begin to rise around this time, but the temperature will remain comfortable as its rare for it to drop too low, so you'll still be able to a comfortable stroll outside without fear of being cold.
Things To Do on Cala Galdana Holidays
Cala Galdana holidays have a steadily growing reputation, which is no wonder as there is so much to do here. You'll love spending time at the EU blue flag approved beach not only to relax but because of the wide variety of activities on offer, from windsurfing to scuba diving. For something a little more suited for children, try visiting the Cala Forcat Aqua Park, which is suitable for 3 to 10 year olds, and offers a range of slides and pools that'll provide safe and clean fun all day long.
Keen walkers on holidays in Cala Galdana should try climbing the steps up the rocky cliffs at the west end of Cala Galdana's beautiful beach to reach the El Mirador bar. What better way to enjoy the evening than with a jug of sangria and a romantic and spectacular view over Cala Galdana as the sun descends?
Culture
Cala Galdana is a relatively new town, which explains its lack of ancient sites, though the ancient history of Menorca will surely interest everyone who hears about it. Menorca actually means 'little one' compared to Majorca, which is 'larger one'. The first evidence of settlement on the island exists from around 2100 BC, while since then many nations are thought to have influenced it, from the French to the British.
You'll find this mix of cultural influences evident even in such a new place as Cala Galdana, especially in its architecture and language. If a glimpse into Menorca's ancient past is your idea of a great day out, then plan a trip to the old capital Cuidadella, where the ancient sites will have you entranced!
Even as a relatively new town, Cala Galdana has many cultural options. Animal lovers especially will love the superb equestrian show, which is performed three times a week, while The Nature Museum in Ferreries will provide a great day for all the family. An information centre run by the local government, it's located on a biosphere reserve. It contains information and seasonal exhibitions all year round, meaning you're likely to find something interesting whatever time you visit, on conferences, courses and other projects on the complexities of the local environment.
Book a Cala Galdana Holiday now!
If your ideal break is all about location, location, location then Cala Galdana holidays are a great choice for you. With an amazing setting in which to rest, relax and have fun, it's a location that will have all visitors wanting to come back again and again. So why not book now with On The Beach? With our convenient live booking system, that dream holiday of yours is totally customisable at bargain prices!