---
An underdog of the beach world, Bulgaria has tons of luxury coastal resorts. Whether it's fun with the family or beach partying, Bulgaria is alive and ready!
---
Destination highlights
Luxury coastal resorts
Tons of family fun
Beach party vibes
Excellent sea swimming
Jump to...
Beaches | Hotels | Nightlife | Food & drink | Events | Things to do | Weather | Important information | Reviews |
---
What are the best beaches in Bulgaria?
Break the mould with a beach holiday in Bulgaria, where the Black Sea coast is home to these stunning seashores that cater to every taste:
Sunny Beach – The number one destination for partying by the sea, where kids play by day and world-class DJs rule the night. It also has good wheelchair access with wide pavements and dropped kerbs.
Golden Sands Beach – A sociable beach famous for its pure sands and beautiful views, it's a hub for water sports fans.
Pomorie Beach - Clean water and calm surroundings make this beach a top spot for relaxation.
Kavatsite Beach - Close to the historic town of Sozopol, with safe shallows ideal for kids to swim.
South Beach - The UNESCO-protected sand dunes of this Nessebar beach are a treat for nature lovers.
Irakli Beach - A chilled-out place to escape the crowds and take a dip in the warm and clear water.
What are the top hotels in Bulgaria?
You won't need to compromise on your Bulgaria holidays, as the country's beach-side resorts promise heaps of fun in the lap of luxury. Get the best of both worlds here:
Melia Grand Hermitage - A great family-friendly hotel just 50m from the gorgeous beach of Playa Mogan
Emerald Beach Resort & Spa - This is the perfect place for couples to take a romantic retreat close to Sunny Beach, with its own impressive spa.
Sunset Resort - Enjoy every activity imaginable at this five-star complex, with the Pomorie beach on your doorstep.
Hotel Sol Luna Bay Resort - Beachside access, relaxing spa treatments for the grown-ups, and a waterpark for the kids make this a great choice for family holidays in Bulgaria.
Festa Panorama - Relax by day and party by night at this Nessebar hotel with its own nightclub, ideal for groups of friends.
Sol Nessebar Palace - A bay-side haven of five-star luxury, complete with all the pools and play areas kids could need. There are also plenty of accessible rooms for disabled guests.
What's the food like in Bulgaria?
Hearty stews, salads, and pastries are among the country's most traditional dishes, and in summer you'll also find these tasty Balkan treats:
Tarata - A cool soup flavoured with cucumber, yoghurt, and herbs.
Lozovi Sarmi - Vine leaves stuffed with flavourful rice, mince, and veggies.
Banitsa - The nation's favourite snack, layers of eggs and cheese baked into filo pastry.
Kebapche - Bulgaria's take on the classic kebab, topped with local Sirene cheese.
Kiselo Mlyako - You'll find this creamy yoghurt served everywhere, and it's packed with probiotic goodness.
All Inclusive holidays to Bulgaria can come complete with an incredible range of resort restaurants but if you'd like to check out some extra local flavour, try these dining spots:
Magdalena, Golden Sands - Local seafood dishes await you at this charming and affordable location away from the crowds.
Tivoli, Sozopol - This sea-side restaurant serves traditional Bulgarian dishes on a terrace with fantastic views.
Khan's Tent, Sunny Beach - Chow down on meaty BBQ treats while you take in a spectacular show in a big-top ten
Organdga, Varna - Everyone can enjoy delicious plant-based and gluten-free Bulgarian treats at this charming lunch spot.
Castro Mesembria, Nessebar - A romantic location for date night, serving local dishes in an ancient manor house.
Where is the best nightlife in Bulgaria?
Party people should head to Sunny Beach, where there are more clubs than you can shake a glowstick at! Other resorts along the coast offer their own mix of dance spots and more relaxed options. Here are our hot picks for both:
Cacao Beach Club, Sunny Beach - Ibiza comes to Bulgaria at this nightclub, where international DJs regularly play right on the sands.
Michael's Eco Bar, Nessebar - The entrance to this hidden gem may look plain, but inside you're greeted with magical forest decor complete with cocktails by a terrapin pool. A unique evening for kids and adults alike.
Bulgarian Forest Fiesta, Varna - A full evening extravaganza, complete with traditional food, drink, and cabaret acts.
Bar Sunrise, Sunny Beach - The LGBTQ+ scene in Bulgaria remains fairly underground, but the Sunny Beach area welcomes people from all walks of life. Meet the locals and enjoy some drag or karaoke at this friendly bar.
What events can I go to in Bulgaria?
The country's national calendar is packed with weird and wonderful celebrations of local culture. If you're wondering when to book your 2022 holiday to Bulgaria, why not plan around one of these coastal events?
Lazaruvane (April) - Villages and towns across the country hold Easter parades where young women display traditional costumes and dance.
Sea and Memories (May) - Musicians from Bulgaria and across the globe play songs dedicated to the sea-loving life at this Varna festival.
Sand Sculptures Festival (July) - This great event for families sees awe-inspiring sand creations hit the beach near Burgas.
July Morning (July) - Your chance to mingle with the locals as they flock to the coast on the first day of the month for bonfire beach parties.
International Folklore Festival (August) - A colourful event in Burgas showcasing unusual Bulgarian customs with parades and shows.
Apollonia Arts Festival (August–September) - Sozopol plays host to a whole season of events celebrating contemporary art in all its forms.
Autumn Passages Festival (October) - Nessebar puts on this annual event to celebrate all things fishing, including seafood cookery contests and folk dancing.
What is there to do in Bulgaria?
Sail away the day
Get out on the water with a catamaran cruise from Sunny Beach, where your friendly guide will take you for a relaxing day trip. You'll be fed and watered before getting the chance to swim and snorkel by the boat, and often a local pod of dolphins will make an appearance too!
Slip, slide, and ride
Thrill-seekers have plenty of options along the coast, whether you'd like to stay dry or keep cool in the water. The Luna Park has rollercoasters for riders big and small, and the Action Aquapark is full of fun ways to get wet 'n' wild!
Take the plunge
Go diving on your holiday to Bulgaria and you'll discover a gateway to underwater secrets that will satisfy even the most adventurous of swimmers. Get your diving gear on at centres along the coast and explore the sub-aquatic stone forest, or swim the halls of many haunting shipwrecks.
Float like a butterfly
If you've got a family of curious animal lovers, the Butterfly House in Varna is a lovely day out on cheap holidays to Bulgaria. You'll get the chance to see lots of colourful critters up close, and take some enviable family photos.
What's the weather like in Bulgaria?
The sunniest season runs from May to September, which is when the coastal resorts really come alive. If you're considering a last-minute holiday to Bulgaria in the winter, you can expect temperatures to drop quite significantly.
| | | | |
| --- | --- | --- | --- |
| Month | Average temp. | Sea temp. | Hours of sunshine per day |
| Jan | 3 °c | 10 °c | 3 h |
| Feb | 4 °c | 9 °c | 3 h |
| Mar | 7 °c | 9 °c | 5 h |
| Apr | 12 °c | 11 °c | 7 h |
| May | 17 °c | 16 °c | 8 h |
| Jun | 21 °c | 21 °c | 8 h |
| Jul | 23 °c | 24 °c | 11 h |
| Aug | 22 °c | 24 °c | 10 h |
| Sep | 20 °c | 22 °c | 9 h |
| Oct | 17 °c | 19 °c | 6 h |
| Nov | 10 °c | 15 °c | 3 h |
| Dec | 5 °c | 12 °c | 2 h |
Important Information about travelling to Bulgaria
How long does it take to fly to Bulgaria?
Flights from the UK to Bulgaria's Black Sea coast take around five hours.
What's the time difference between the UK and Bulgaria?
Bulgaria is two hours ahead of the UK.
What currency do they use in Bulgaria?
The official currency of Bulgaria is the Bulgarian lev (BGN).
What language do they speak in Bulgaria?
Bulgarian is the official language, though you will find many English speakers in the tourist areas.
Do I need any vaccinations to visit Bulgaria?
Please check with your healthcare provider for all up to date vaccination advice before booking your holiday.
Do I need to pay tax on my holiday to Bulgaria?
There is currently no tourist tax to pay in Bulgaria
Will Covid-19 affect my holiday to Bulgaria?
We are currently closely following the Covid-19 situation and how it affects travel. You can find out the most up to date information about travel to Bulgaria on the FCO website.
---
Customer reviews
At On the Beach, we've sent many satisfied customers to Bulgaria for a bit of sunshine. But don't just take our word for it, read some of their 5-star reviews below.
Melissa Herbert:
Brilliant service, very happy and got good deal
Sharron Shewan:
So quick and easy, no hassle. Always kept up to date with any relevant information
Susan Haney:
Really easy site to navigate. Managed to find the holiday I wanted and booked it within minutes! Great prices and plenty of information on hotels, location and transport options.
View destination on a map
Bulgaria Weather
Bourgas experiences a temperate climate, with mild weather year-round. The average daily temperature in the winter months of November to April is 4.5°C (40°F)and in the summer months of May to October it is around 26°C (78°F), which is also the busiest and best time to visit. August is the hottest, and also most humid, month of the year with highs of 30°C (86°F).
Things To Do on Bulgaria Holidays
What attracts people to Bourgas is undoubtedly the clear blue sea. The city is a starting point for visiting the seaside resorts in the area - the Slantchev Bryag resort (Sunny Beach) and the Elenite Holiday Village to the North and the Duni Holiday Village, renowed for it's unique architectural composition, to the south.
The Sea Garden Park in Bourgas is a lovely place where tourists can sit and relax amongst the beautiful nature of Bourgas. It is situated on a high shore, flecked with colourful flower beds, trees and sculptures. A casino, a small zoo and the open-air theatre are also within the park. The park which is also called Promorski Park is always popular with families. Kids will love the merry-go-round, bouncy castle and helter-skelter.
Bourgas is a well-known festival centre in Bulgaria every summer the Seaside Park's open-air theatre houses the Bulgarian Popular Song Festival entitled Bourgas and the Sea, acknowledged as an event at which musical hits are inevitably 'born' every time. The open-air theatre also hosts the ever intriguing Annual Summer International Folklore Festival, the Beer Fest, the Bulgarian Rock Music Festival Rock-Explosion, a Blues festival and the wonderfully named On the Beach Theatre Festival!
Bourgas along with Sofia is one of the few places that has kept it's Bulgarian musical identity in a post-communist era. Concert gigs are particularly active over the summer season, when the sea becomes the main drawing point for culture and the Bulgarian bohemia.
One of Bourgas's main draws is it's Central Beach which is in front of the beautifully quirky Sea Garden Park. The beach is a low-key place for swimming and strolling. Where everyone hangs out during the long summer months. The strong winds make good conditions for windsurfing, although there are few places to rent equipment. Kite-surfing is possible on the less crowded northern end of the beach.
Culture
The small old town of Bourgas with its pedestrianised streets makes it easy to explore, with a few pleasant museums and galleries dotted around. Petko Zadgorski Art Gallery (ulitsa Metropolit Simeon 24), housed in the old synagogue, has three floors of paintings including 17th-century religious icons and Bulgarian contemporary artists.
Its exhibition has been arranged in a former Jewish synagogue, now listed as a cultural monument. The frescos inside the gloomily-lit Sveti Sveti Cyril and Methodius (ulitsa Vuzhrazhdane) are stunning. There are more than ten art galleries in Bourgas, so art lovers cannot fail to keep themselves amused.
Book a Bulgaria Holiday now!
Search now for our very best value flight and hotel deals to Bulgaria, we pride ourselves on offering the best value beach and city holidays for our customers. Our online booking system is simple, easy and fast and there are some great deals available right now.
Bulgaria Resorts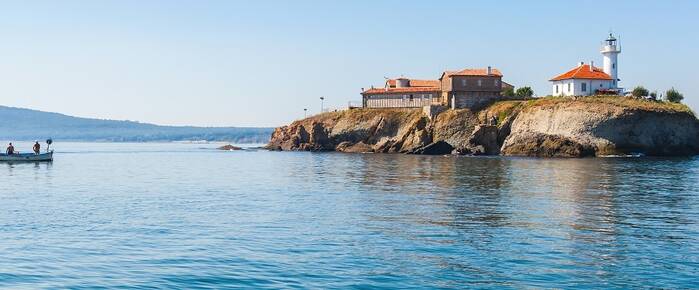 Bourgas is the second largest city on the Black Sea coast and is the home to the main tourist airport of Bulgaria. It offers the best of both worlds i…
Lazy beach days, paintballing mornings, waterpark afternoons and unforgettable nights out under neon lights are standard on a Sunny Beach holiday.Dest…
Read more on Sunny Beach Travel Guide