---
A family-friendly beach destination with vibrant nightlife, fantastic history and activities for all - Bodrum can put a smile on anyone's face.
---
Destination highlights
Family-friendly beach destination
Historical hotspot
Party paradise
215km of coastline in the Bodrum Peninsula
Jump to...
Beaches | Hotels | Food & drink | Nightlife | Events | Things to do | Weather | Important information | Reviews |
---
What are the best beaches in Bodrum?
Beach holidays in Bodrum are for the sun-worshippers, families seeking adventure, and anyone after a spot of relaxation. These are the top beaches you need to visit on a 2022 holiday to Bodrum:
Gumbet Beach – a lively hub for watersports and entertainment.
Bitez Beach – a firm favourite with families, offering calm waters, a full range of exciting facilities and loads of watersports.
Gumusluk Beach – a narrow stretch of sand recognised for its beauty and shallow waters, as well as the nearby village.
Ortakent Beach – the place to be for swimmers, with a long beach and clear, slightly deeper waters.
Yalıkavak Beach – a prime spot for relaxation and beach days away from the crowds.
Karaincir beach – a 2km stretch of coastline which is considered the 'Maldives of Turkey,' with deep blue waters and range of watersports.
What are the top hotels in Bodrum?
Holidays in Bodrum mean non-stop sunshine, relaxation, and plenty of activities for all the family. These hotels are perfect for a memorable holiday:
La Blanche Island - a five-star hotel overlooking the Aegean coast, offering a taste of the luxury lifestyle with endless amenities.
Bodrum Holiday Resort and Spa - a beachfront property of dreams, offering every facility you need to get your relaxation on.
Onderhan Hotel - a hotel set just moments from the sand and boasting gorgeous sea views, perfect for experiencing the laidback beach life you deserve.
Charm Beach Hotel - a beachfront property with the best amenities around to keep you entertained and the ideal atmosphere for living your best beach life.
Royal Asarlik Beach - privacy and luxury are what this five-star property is all about, with its own beach and a top range of activities on offer.
The Blue Bosphorus Hotel - experience ultimate tranquillity in this brand-new hotel with something for every holiday-goer, from families to couples.
What's the food like in Bodrum?
The food in Bodrum is a blend of Turkish and Mediterranean cuisine, plus plenty of seafood, of course. These are the dishes worth trying:
Sebzeli Döner - meat roasted on skewers with seasonal veg and various sauces
Mandalina Lokum - Turkish delight made from local mandarins
Çökertme Kebab - a type of kebab made with beef and served alongside garlic yogurt and fried potatoes
Çiçeği Dolması - stuffed courgette flowers that have an assortment of fillings, including meat and vegetables
Bergamot Reçeli - Bergamot jam - one of the city's specialties
Looking for a place to dine in Bodrum? Check out these top restaurants:
Otantik Ocakbaşı - known for its traditional Turkish fare and grilled meats, from shanks to kebabs.
Limon - set in the most beautiful location across green gardens, this cafe serves up something for everyone.
La Pasión Restaurante Español - located in a pretty courtyard, this classic Spanish restaurant offers a whole menu of traditional tapas.
Iki Sandal - situated in a gorgeous old stone house with harbour views, offering a deliciously creative menu.
Orfoz Restaurant - recognised as one of the city's best fish restaurants, serving a menu that'll make your soul happy.
Where's the best nightlife in Bodrum?
Nightlife in Bodrum is all about variety, whether you're seeking quiet drinks by the sea or somewhere to dance the night away. These are the places to add to your list:
Club Catamaran - a unique floating nightclub on a ship that sails out to sea - the number one place to be for a night you'll never forget.
Kule Rock City Bar - step into Bodrum's live rock music scene, with slow rock and heavy rock as the evening goes on.
Moonlight Bar - the most laidback beach bar you can find in Bodrum, topped off with unbeatable views of the coast.
Veli Bar - an iconic music location established in 1977, with top drinks and music that'll keep you dancing all night long.
What events can I go to in Bodrum?
Bodrum is an exciting city for events, concerts, exhibitions, and local traditions. These are the ones to watch out for:
Bodrum International Film Festival (March) - a festival celebrating all things film and cinema, with four categories including short films, feature-length films, documentaries, and directorial debuts.
Bicycle festival (May) - a festival with live music, peformances and actitivites to encourage a 'greener Bodrum,' as people are encouraged to embrace the cycling way of life for the month.
International Bodrum Dance Festival (May) - one of the biggest dance festivals in Europe, celebrating all types of dance - a great chance to watch a variety of different performers.
The Ballet Festival (July–August) - a three-week long festival which allows you to watch and enjoy ballet performances from all over the world.
Gümüşlük International Classical Music Festival (July–September) - a series of classical concerts from famous and upcoming artsts over the course of two months, held in the fishing village of Gümüşlük.
Pedesta Festival (August–September) - an annual festival which has been held for over 20 years, with local music shows, folk dance performances, competitions and nature walks.
The Traditional Wooden Boat Races (October) - taking place on the third Sunday every October, the Bodrum Sailing Club hosts a wooden boat race where locals and tourists gather to watch the fun.
Things to do in Bodrum
Set sail
Bodrum is a destination famous for its picturesque and memorable coastline. Its harbour is full of private yachts and boats, some of which you can book for a tour to see and experience the coastline fully, scoping out the entire peninsula and visiting nearby islands.
Feel like royalty at Bodrum Castle
Dating back to 1402, Bodrum Castle is one of the city's main attractions. It offers incredible views of the sea and is home to the Museum of Underwater Archaeology, with one of the world's most impressive collections of artefacts recovered from shipwrecks.
Market a holiday to remember
Located nearby to the castle, the market is a great cultural experience to purchase local, homemade souvenirs from fabrics to ceramics, and have a lovely mooch. There's also a vast range of restaurants, cafes and shops to explore.
Go to town
For a quirky experience, take a walk around Bodrum's old town - one of the most interesting areas of the city. Full of quaint, narrow streets and whitewashed cottages, it's a place with a charm you won't forget.
Try a hammam
A hammam is a type of Turkish steam bath, and your 2022 holiday to Bodrum is the perfect chance to experience one. There are several hammams in the city to choose from to get your relaxation on.
What's the weather like in Bodrum?
Bodrum is blessed with a mild climate all year round, but if you really want to sizzle away in the sunshine then July and August are the best months for a visit. Alternatively, if you don't like it too hot then you can still soak up the warm temperatures in autumn.
| | | | |
| --- | --- | --- | --- |
| Month | Average temp. | Sea temp. | Hours of sunshine per day |
| Jan | 12 °c | 18 °c | 5 h |
| Feb | 12 °c | 17 °c | 6 h |
| Mar | 13 °c | 17 °c | 6 h |
| Apr | 17 °c | 17 °c | 7 h |
| May | 21 °c | 19 °c | 9 h |
| Jun | 25 °c | 22 °c | 10 h |
| Jul | 29 °c | 24 °c | 10 h |
| Aug | 28 °c | 25 °c | 10 h |
| Sep | 26 °c | 24 °c | 8 h |
| Oct | 21 °c | 22 °c | 7 h |
| Nov | 16 °c | 20 °c | 6 h |
| Dec | 13 °c | 18 °c | 4 h |
Important Information about travelling to Bodrum
How long does it take to fly to Bodrum?
It takes around four hours to fly to Bodrum from the UK.
What's the time difference between the UK and Bodrum?
The local time in Bodrum is three hours ahead of the UK.
What currency do they use in Bodrum?
The official currency used in Bodrum is the Turkish Lira.
What language do they speak in Bodrum?
The official language of Bodrum is Turkish.
Will Covid-19 affect my holiday to Bodrum?
We are currently closely following the Covid-19 situation and how it affects travel. You can find out the most up to date information about travel to Turkey on the FCDO website.
Do I need any vaccinations to visit Bodrum?
We'd advise you to speak to a healthcare provider about the up-to-date vaccinations needed before you book your trip.
Do I need a visa to travel to Bodrum?
British passport holders don't need a visa to enter Bodrum. Holders of other passports are advised to check with their national embassy for any visa requirements.
Here are some other destinations you might be interested in...



---

Customer reviews

At On the Beach, we've sent many satisfied customers to Bodrum for a bit of sunshine. But don't just take our word for it, read some of their 5-star reviews below.

Craig Harrald:

Amazing service as always this is the 5th time I've booked quick easy and good value :) would highly recommend.

Amanda Burroughs:

Always my first choice for booking holidays. Seamless from beginning to end every time. Great locations, accommodations and prices.

Sharron Shewan:

So quick and easy, no hassle. Always kept up to date with any relevant information.
View destination on a map
Bodrum Weather
Bodrum is famous for its Mediterranean climate with long hot summers, pleasant spring and autumn months and mild winters.
The blistering sunshine throughout the summer months reaches highs of 30° C, however during May throughout to October Bodrum does benefit from the Meltemi wind, which offers a satisfying breeze on some of the hottest days and cools down the temperatures for a comfortable evening.
The spring and autumn months in Bodrum are popular for those wanting a bright and sunny holiday without it being uncomfortably hot. Temperatures during these months range from the low to mid 20's, meaning these months are perfect for activities such as walking and hiking, taking advantage of the beautiful scenery and bright blue skies.
The winter months see rainfall and much cooler weather, with temperatures dropping to 10°C or below, so isn't recommended as a winter sun destination.
Landscape
Bodrum is renowned for the beauties of it's climes. The scenic castle is flanked on both sides by two bays stretching out to the clear waters of the Aegean, and buffered by the giant green hills all around. For some astonishing sunset views, head to the marina, or for an all-encompassing panorama with castle, sea and town below you, the amphitheatre.
Don't forget that Turkey is a meeting point between east and west. You can clearly see numerous Greek Islands on the horizon.
Things To Do on Bodrum Holidays
Whether you are visiting Bodrum to relax and top up your tan or you are wanting to take advantage of the brilliant watersports or historical wonders, Bodrum is a perfect holiday destination for you. Take a look below at just some of the activities that Bodrum offers to ensure you have a fantastic holiday that you deserve.
If you want to sit back and relax then take a Blue Cruise along the Turkish coastline on a Turkish gulit to sail along the breathtaking coast of Bodrum and truly relax as you explore the many coves, take in the amazing views and even top up your tan as you sit on the deck. The trips usually take a few hours and are fantastic if you want to get away from the hustle and bustle. You can even take advantage of an extended route and visit a nearby Greek Island.
Culture
The Mausoleum of Halicarnassus is located in Bodrum and is one of the Seven Wonders of the Ancient World. Built for the king Mausollos of Caria, who died 353 B.C. by his wife and sister Queen Artemisia, the castle was destroyed by an earthquake between AD 1000 and AD 1400 and rebuilt in 1494 by the Knights of St. John of Malta. Although much of the castle has been damaged, the remains along with sculptured murals of soldiers and animals are still a popular attraction.
Bodrum Amphitheatre was built during the reign of King Mausollos and is situated on a hillside overlooking the whole of Bodrum. Once housing 13,000, this is a fascinating visit and offers beautiful views over the castle and harbor.
The Castle of St Peter, a medieval redoubt built by crusaders which now hosts The Museum of Underwater Archaeology is a must if you are in Bodrum as it boasts amazing sea views, a Byzantine shipwreck hall and scary old dungeons to scare yourselves in! It is a great visit and is aimed at visitors of all ages.
You really know you're in Turkey when you are holidaying in Bodrum, with a bazaar every Thursday and Friday selling the finest food and fish freshly caught. There are other daily markets such as the textile market on Tuesdays and the fruit and cheese sale - you'll likely not even know the sheer variety of fruits there are until you come to this!
Antiques and exotic baubles are also ten-a-penny here, so you'll have more with which to remember your Bodrum holidays than just memories!
Adventure
Bodrum offers many exciting activities to keep you busy on your holiday. For something really energetic, try water-skiing or windsurfing on where the peninsula beaches are perfect. The waters around Bodrum are popular with divers and snorkelers and you will find many diving schools in the area if you want some expert help. More activities include river-rafting along the Dalaman river, jet skies and for something more relaxing but still exciting, parasailing.
If you want an adventure out of the water in Bodrum, you will find jeep safaris a fantastic way to see the spectacular views of the entire region. Horse riding, walking and trekking are also very popular ways of seeing what Bodrum and the surrounding areas have to offer.
Eating And Drinking
Bodrum caters to all tastes so you will be able to find international food in most restaurants and cafes, and will even find a few McDonalds. However, if you are after a more local dish, you will be spoilt for choice. The locals in Bodrum particularly enjoy pide, which is a Turkish pizza and they dine in lokantas, which are simple restaurants serving well cooked cheap local food.
As we are romantics, we love Restaurant Alley, which is a beautiful street in Bodrum with lovely restaurants, romantic live Turkish music, vines and lanterns which really sets a romantic scene. Perfect for a memorable evening, especially if you are celebrating a special anniversary.
Book a Bodrum Holiday now!
Remember, On the Beach is first choice not only for flights to Bodrum, but also for Bodrum hotels! Our online booking system is simple, easy and fast - so don't delay - book your holidays to Bodrum today!
Bodrum Resorts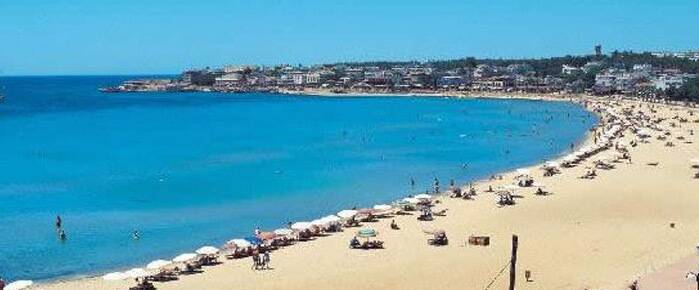 Going on holiday to Turkey? Holidays to Altinkum, which translates as 'The Golden Sands', are amazing; this paradise of a beach overlooking the Aegean…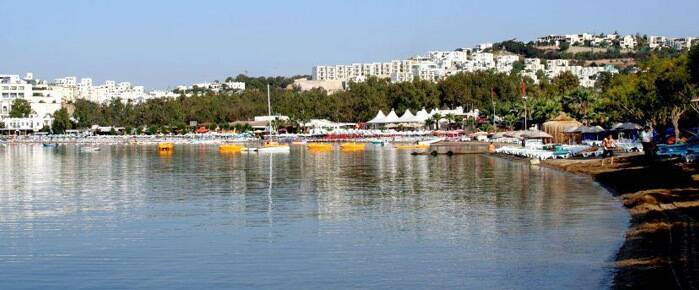 When going on Turkey holidays, you want some peace and quiet, right? Well, where better to find that than in the secluded bay of Gumbet, to the west o…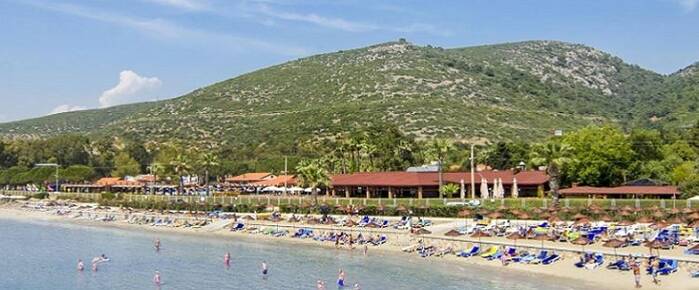 While on Turkey holidays, you can't ignore the amount of history that's around you - especially if you're in Kusadasi! Situated next to a beautifully…