Read more about Balearics
The Balearic Islands have blessed us with some of our favourite holiday destinations of all. Soaked in sunshine and surrounded by the Med, these treasured holiday gems have given home to many of the towns we love to choose for our escape to the sunshine. And with beaches this beautiful – it's hardly a surprise. Catering to many a holidaymaker, each island offers a unique quality that keeps the people coming back from more. Be it the family-friendly towns of Majorca's coastline, the party-pleasing paradise of Ibiza's southeast seafront or the mellow magic of Menorca. After a busy year, a holiday in the Balearics is the perfect way to recharge your batteries.
Jump to...
Best beaches in the Balearics | Best hotels in the Balearics | All Inclusive holidays in the Balearics | Last minute holidays to the Balearics | Family holidays to the Balearics | Group holidays to the Balearics | Nightlife in the Balearics | Things to eat in the Balearics | Culture in the Balearics | Things to do in the Balearics | What's the weather like in the Balearics? | Balearic Islands Important information | Reviews |
---
Best beaches in the Balearics
The Balearics are home to some of our best-loved holiday beaches of all. From the party paradise that is Playa den Bossa, in the island that never sleeps (Ibiza - of course!) to the sleepy coves of Majorca's magical shores - there's a beach for everybody in the Balearics. Jetting off with the family in tow? Then we'd recommend popping over to Santa Ponsa beach in Majorca, this golden stretch is sure to be a hit with the whole gang. With shallow shores and a playground for the little ones, as well as beach bars for the big ones – everybody's sure to be happy!
Best hotels in the Balearics
Seeking a scenic beach front pick? We don't blame you. Our favourite for beach lovers has to be INNSiDE by Melia Alcudia. With one of the sleekest interiors we've ever seen featuring ultra-modern rooms, luscious greenery and tropical décor – this little pick will truly give you the holiday feels. Plus, it's nestled between two of Alcudia's most picturesque bays… ahhh. Now this, is the life.
Looking for a hotel that welcomes the party people with open arms? Then you'll feel right at home at the BH Mallorca Hotel – Adults Only. Boasting wild waterslides, daily DJ sets and an outdoor gym for those who like to get a pump on – it's a winner for mates escapes. This lively pick is also great for meeting a few holiday friends along the way.
---
Discover our favourite
Balearic Island hotels
here.
---
All Inclusive holidays in the Balearics
Get the most out of these sun soaked islands with an all inclusive holiday to the Balearics. Forget fussing over holiday funds, with an All Inclusive holiday, you can let money worries slide and enjoy the sea side. Plus, there's plenty of well catered All Inclusive hotels right across the Balearics that will tick all the boxes. From more small and intimate hotels like Hotel Galeon Ibiza on the coast of San Miguel, Ibiza, to big and bustling options with entertainment to suit all tastes like Royal Son Bou Family Club in Son Bou, Menorca.
Last minute holidays to the Balearics
With a short flight time of just over 2 hours, the Balearics make a great option for a last minute holiday. No need to plan months or years in advance… sometimes an impulsive trip is the best way to go! Luckily for you, we've got tonnes of excellent last-minute deals to choose from in Ibiza, Majorca and Menorca. The only thing left to do is pick the island that suits you best. Click the button below for a fast-track ticket to your Last-minute search for sun.
---
Take a look at our top
Last-minute Balearics breaks with Barcelo
here!
---
Family holidays to the Balearics
Bursting with beautiful beaches, family holidays to the Balearics are a winner every time. The short flight time comes in handy for the little ones who won't keep still, plus the sunny temperatures here don't get too hot for the kids to handle. With plenty of fantastic family-friendly hotels here too – you're sure to find one that ticks all the boxes. Our top hotels offer splash parks, kids clubs, sports facilities, mini discos and more.
---
Find out more about family days out in the balearics with our guide to
Sol Katmandu Park & Resort – the ultimate family resort
here!
---
Group holidays in the Balerics
Laughter, memories and connection are just some of the things that spring to mind about group holidays. Couple that up with a cracking hotel, beautiful beach resort and gorgeous sunshine - then you've got a recipe for a holiday to remember. Escaping on a hen or stag do? Then Palma in Majorca is a great option. Explore the buzz of the city bars, shops and restaurants whilst still making the most of the nearby beaches – you'll get the best of both worlds. Jetting away on a big family vaycay? Head to Cala Llonga in Ibiza. A hit with families, it boasts shallow blue beaches, a bubbly town centre and fantastic hotels with kids facilities – there's something for everyone.
Nightlife in the Balerics
Ibiza, Magaluf, Palma Nova. The Balearics have made a name for themselves when it comes to nightlife. Home to some of Europe's most iconic party destinations, the nightlife options here are endless. Ibiza's incredible party scene attracts travellers from across the globe with its word-famous DJs, sunset clubs and wild pool parties. So if you're planning on getting a piece of the party action for yourself, we've got a couple of recommendations for you…
Seeking a secret spot for colourful cocktails? Head to Number 5 in Ibiza Town. Located by the port area, these juicy glasses of goodness are in the running for some of the best cocktails in town in our opinion. After an evening of all night dancing? Head over to Hï Ibiza in Playa d'en Bossa, Ibiza's newest club boasting open-air dancefloors, private tepee tents and some of the biggest names in dance music.
Things to eat in the Balerics
Inspired by its Mediterranean roots, cuisine in the Balearic Islands is hugely important to the locals, and with food this good – we're hardly surprised. Just like the rest of Spain, spicy sausage is a hit here, with the local variety in Majorca being Sobrassada . This fiery cured meat packs a punch with a black pepper, paprika and salty seasoning and it's traditionally served with slices of fresh crusty bread.
Another thing these islands are well known for is their famous cheeses, so if you're stopping in Mahon (the capital of Menorca) be sure to taste the local Maó Cheese this soft buttery pale cheese is a winner. This tasty cheese also goes great with the Spanish condiment Aioli , as well as a bottle of the island's home-grown red wine.
Culture in the Balerics
What better way to soak up some culture in the Balearics than by discovering the island's capitals with your very own eyes, from the historic gem that is the Ibiza Town's Old Quarter with its gothic cathedral and castle to the old cobble streets and small squares of Mahon in Menorca. That's not to mention the lively city of Palma, Majorca, that's brimming with contemporary art galleries, a Gothic cathedral, museums, and plenty of public art scattered around.
Things to do in the Balearics
Party in Playa den Bossa
The highlight of Ibiza nightlife, Playa den Bossa is the place to be for those who love to drink, dance and laugh the night away. This part of this island is home to many of the most famous clubs including Ushuaia Beach Club, Hï Ibiza, DC10 and Pacha Ibiza. Here you can expect incredible DJ line-ups, vibrant neon lights, oh, and plenty of glitter.
Visit Katmandu Park
Located in Magaluf, Katmandu Park offers an awesome adventure with attractions including a splash park, 4D experience, crazy golf, zombie ride and soft play areas. So if you fancy taking a break from the beach and heading for a fun family day out it's a great option.
Take a day trip to Formentera
Just a short ferry ride out from Ibiza, Formentera is a tiny island all on its own with some of the clearest blue oceans you'll ever lay eyes on. Top rated by many is the beach of Playa de Ses Illets, which is a none other than a secluded snorkeler's paradise. So don't forget your snorkel.
What's the weather like in the Balearics?
The Balearics enjoy 300 days of sunshine a year, and the Mediterranean climate promises hot summers, mild autumns and pleasant winters. Boasting average annual temperatures of 16-17°C, the Balearic Islands are popular with visitors all year round!
| | | | |
| --- | --- | --- | --- |
| Jan | 10 °c | 15 °c | 7 h |
| Feb | 10 °c | 15 °c | 8 h |
| Mar | 12 °c | 15 °c | 9 h |
| Apr | 14 °c | 16 °c | 10 h |
| May | 18 °c | 18 °c | 12 h |
| Jun | 21 °c | 21 °c | 12 h |
| Jul | 24 °c | 24 °c | 13 h |
| Aug | 25 °c | 26 °c | 12 h |
| Sep | 21 °c | 25 °c | 10 h |
| Oct | 18 °c | 22 °c | 8 h |
| Nov | 14 °c | 19 °c | 7 h |
| Dec | 11 °c | 17 °c | 6 h |
Important Information about travelling to the Balearics
How long does it take to fly to the Balearics?
It takes about two and a half hours to fly to the Balearics from the UK.
What's the time difference between the UK and the Balearics?
The Balerics are an hour ahead of UK time
What currency do they use inthe Balearics?
The official currency ofthe Balearics is the Euro.
What language do they speak in the Balearics?
The official language spoken in the Balearics is Spanish, but English is widely spoken too.
Do I need any vaccinations to visit the Balearics?
Please check with your healthcare provider for all up to date vaccination advice before booking your holiday.
Coronavirus restrictions in the Balearics
What restrictions are currently in place in the Balerics?
For more information on entry requirements and restrictions, visit our Covid-19 destination updates page, where we keep you updated with everything you need to know.
---
Customer reviews
At On the Beach, we've sent many satisfied customers to the Balerics for a bit of sunshine. But don't just take our word for it, read some of their 5-star reviews below.
Amanda Compton:
We had a fantastic holiday from start to finish. The hotel was amazing food room flight everything was perfect thank you.
Pammy:
On The Beach were very helpful in helping me to finalise my accomodation after an exchange of Hotels
Elizabeth Simkin:
The whole experience was perfect from finding to paying and getting there and coming home X
View destination on a map
Balearics Weather
The Balearics enjoy 300 days of sunshine a year, and the Mediterranean climate promises hot summers, mild autumns and pleasant winters. Boasting average annual temperatures of 16-17°C, the Balearic Islands are popular with visitors all year round, however the summer months are always the busiest!
During the summer months of July and August, the Balearics enjoy up to 11 hours of sunshine each day with a beautiful average temperature of 29°C and rainfall extremely rare. The Spring and autumn months are still a great time to visit the Balearic Islands if you prefer a more comfortable low heat, but still gloriously sunny. The temperature during these months range from 22°C to 28°C and the cooler temperatures make activities away from the beach, such as golfing, walking and cycling ideal during these months.
Winter months in the Balearic Islands are bright and crisp, with the average temperature dropping to 15°C and the hours of sun dropping to only 5. The chance of rainfall does increase during October through to February, however the weather will be significantly better than what you will find in the UK, which is why the Balearics are still a popular holiday destination during these months.
Landscape
The Balearics have literally hundreds of beaches. In Majorca, take your pick from long sandy beaches in Alcudia or little bays like Cala Mesquida. At Puerto Pollensa the Tramuntana Mountains run down to the sea, creating a dramatic effect with exquisite views from the beach. Majorca's west coast is rugged, but there are spots for swimming and snorkelling. For stunning views, head for the mouth of the Torrent de Pareis which shapes Sa Calobra, with rock formations, a small beach and crystal clear waters to enjoy.
Ibiza alone has more than 50 beaches. Platja d'en Bossa, a large idyllic sandy stretch south of Eivissa, with the Aguamar waterpark behind it, is popular with young clubbers and families alike. Other popular hotspots include Cala de Boix, framed by green hills, and boasting a superb view.
Menorca too is an island of idyllic beaches, particularly along its south west coast. Expect clear waters and beautiful white sands in Cala Blanca, with fewer crowds. Peace and quiet is on the menu, and beaches are attractive, although smaller than on the other islands.
Things To Do on Balearics Holidays
You'll not only enjoy magnificent beaches, but also a wide range of cultural and entertainment activities. With water parks for the children, beautiful landscapes and historic sites to explore, you'll never be bored. If you love cities, Palma has blocks of contemporary art galleries, a Gothic cathedral and museums. There are restaurants, bars and clubs to suit all tastes, from quiet, local eateries to clubs where the partying only slows down at dawn. Whatever you want to do, you'll find it somewhere in the Balearics.
Culture
There are colourful fiestas across the Balearic Islands all year round. In Majorca and Menorca, the grape harvest festivals and processions of giant papier mache heads are a specialty. The main festival on Menorca is Sant Joan, in late June. The distinctive Menorcan horse opens this festival, with rider and whooping crowds.
Other fiestas across Menorca include those at the end of July in Es Mercadal, Fornells and Es Castell. In August things get pretty spicy almost every weekend. In September, Mare de Deu de Gracia in Mao hosts its fiesta. The fiestas are essentially an excuse to have a week long party.
Ibiza Town's old quarter is a historical gem perched on a rocky promontory, and Dalt Villa, the medieval part, has a Gothic cathedral and sprawling castle. Check out the area's Museu d'Art Contemporani in Dalt Vila, with its selection of avant garde paintings and sculptures. The Lady of the Snows Cathedral is one of Ibiza's most impressive buildings.
Menorca's capital, Mahon has an old town, with small squares, cobbled streets and a natural harbour. At the Port of Mahon are the remains of the Castle of Sant Felip, and the La Mola fort. The Museu de Menorca on Placa des Monastir holds a selection of artefacts. Just north of Mahon is the Parc Natural de S'Albufera des Grau, an important wetlands reserve area, home to many birds and superb hiking territory.
Palma is crammed with contemporary art galleries, a Gothic cathedral, museums, excellent shopping, and plenty of public art scattered around.
Adventure
There's plenty to attract those looking for an "action-packed" holiday in the Balearics. For those interested in activities on and under the water, there's a wide variety of snorkelling & diving, sailing, kite & wind-surfing. Canyoning is also a popular, adrenaline-soaked activity if you're brave enough!
The rugged landscape and breathtaking hills attract both mountain and road bikers, with Majorca a key training camp for many of the professional cycling teams. The mountainous areas also attract climbers and extreme hikers.
Shopping
Each of the islands offer a different shopping experience, from top-end designers to local handicrafts. Popular buys include local wines, embroidery, hand painted ceramics, glassware, handmade shoes and costume jewellery. If you're looking for something special Majorca is famous for its pearls. There's something to suit all budgets and tastes to buy as a reminder of a fantastic Balearics holiday!
Nightlife
Whatever you're looking for in your ideal night out, the Balearics can cater for your every need, from mixing with the locals for a quiet meal to clubbing until dawn. Ibiza is home to some of the world's largest and most famous nightclubs and its club culture is famous in its own right, drawing people from all over the world. If you're staying in Ibiza Town, San Antonio or Playa d'en Bossa, you'll find it on your doorstep. Majorca too is home to great nightlife, ranging from sophistication in Palma to wild in Magaluf! Menorca by contrast is quiet with nightlife usually hotel-based, though Mahon and Ciutadella offer a wide range of nightspots.
Who goes to Balearics?
The variety and vibrancy of the Balearic islands offers something for everyone, whether you're looking for a relaxing and romantic break, a safe family holiday or all night partying. From older couples who want a quiet holiday to the international jet-set crowd, you can find your ideal holiday somewhere in the Balearics.
Book a Balearics Holiday now!
Attractive to everyone from fun-loving party people to families looking for a quiet break, the Balearics have a unique appeal to holidaymakers, who are drawn back year after year by the sheer diversity of these islands' appeal, and the relaxed, sun-soaked lifestyle.
On the Beach has terrific value deals on flights and accommodation right now. With so much fun and relaxation just a few moments away - what are you waiting for?
Balearics Resorts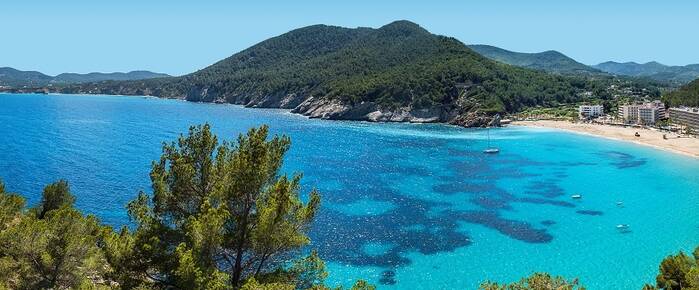 Destination highlightsA party paradiseHome to 57 different beachesSoaked in year-round sunshineOfficially a UNESCO World Heritage SiteOn the Beach Per…
Read more on Ibiza Travel Guide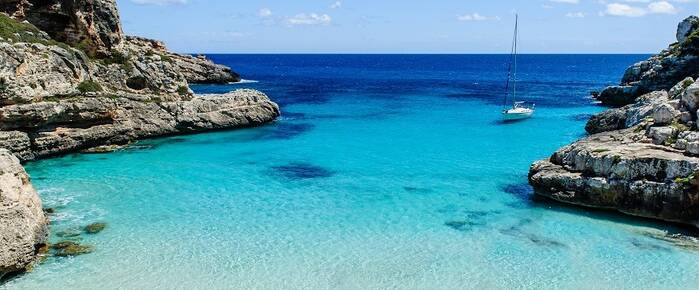 Destination highlightsFamily-friendly resortsAdult-oriented party resortsGreat beachesEasy to get around and exploreOn the Beach Perks - FREE Lounge &…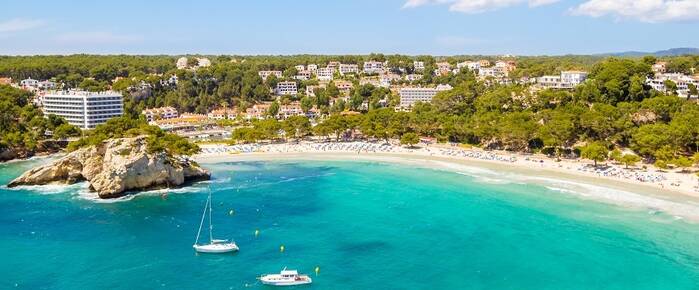 Bright-blue waters, rugged coves and gorgeous white-sand beaches. Menorca is the perfect choice for chilled-out holidays in the beautiful Balearics.De…
Read more on Menorca Travel Guide